As a long-time fan of Tae-Bo, I was pretty damn thrilled to meet and workout with the master himself,
Billy Blanks!!!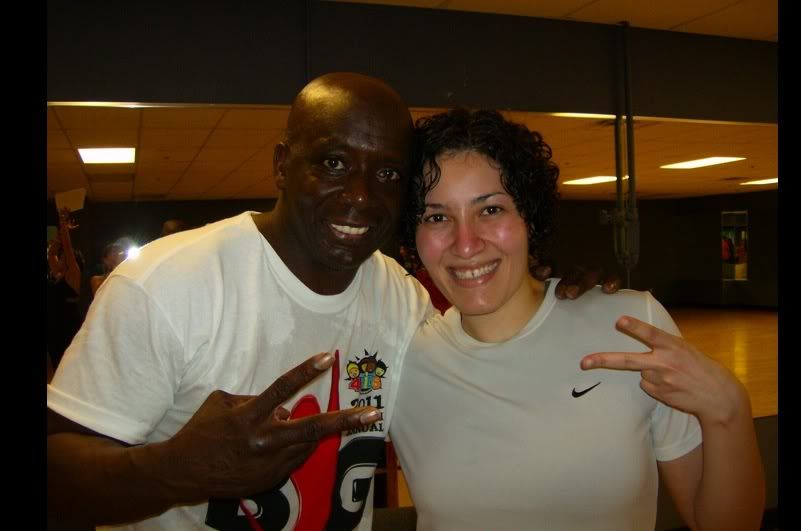 Last Friday, I found out that Billy had done a workout at a local gym (my old-old former Planet Fitness gym,
Westside Fitness
) at 10 am. Totally missed it! I was pretty bummed. I started using the Tae Bo tapes back in my early college days, all the way through to my current fitness routine. It's one of those workouts that I can always depend on because it never feels like "work," it's just fun and empowering. And it always leaves me drenched in sweat, as depicted above, heh.
Anyway, as I searched the web for re-caps of the awesome workout I missed, I found out that Billy was doing a SECOND workout at 5 pm! There was hope! I still had a chance to live out one of my fitness dreams and workout with Billy in person!
I called the gym to see if there was any spots left and there were! Granted, the cost to get in was $30, but the workout and meet/greet was open to non-gym members, so I decided to dash home, change and get my kickboxing on.
Working out with Billy was incredible! Definitely one of the biggest challenges I've done to date. Part of what made it so challenging (aside from the non-stop kicking, punching and resistance band routine) was Billy walking around the room, calling us out to correct our form and holding up his padded gloves to make sure we were counting and punching and kicking on the beat.
When we were going through a punching routine, Billy came up to me and held up his gloves- just like in the videos! He yelled at me over the music to "look in the mirror!" so I could see myself and my form, but I was totally starstruck and had a hard time looking in the mirror when a fitness legend was by my side, haha.
He also held the gloves up to me when we were doing front and back kicks. There was so much burning going on in my muscles at that point, but I pushed through it. He said "Good!" after monitoring my kicks for a bit and I was walking on air from that point on.
After the workout, we all sat down and listened to Billy talk and answer questions: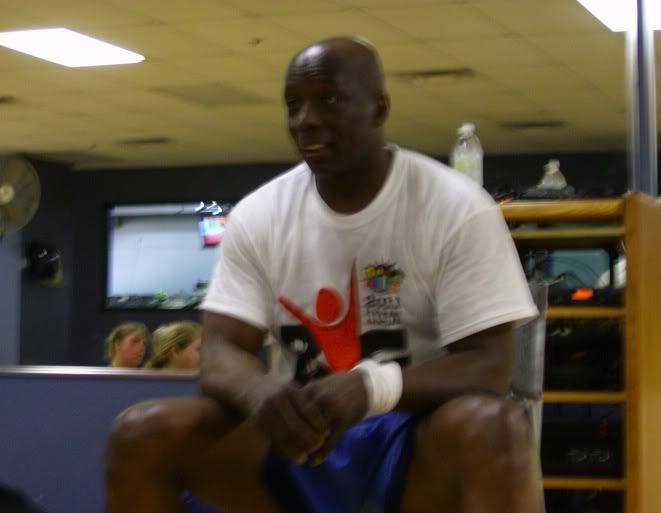 He said that he was dyslexic and didn't read his first book until 20 years ago. I never knew that about him, so it was inspiring to hear how taking up boxing and Tae Kwan Do helped him eventually work through those issues.
I personally couldn't think of anything to ask because I was still in shock over the fact that we just worked out together, so I just listened. He of course got asked about food and diet and I was pleased with his answer. He basically said that diet books and trends probably work well for the people that designed them, but they more than likely won't work for you 100%. He recommended taking bits and pieces from different plans and customizing something that works
for you
, which I totally agree with. He didn't talk about calories or superfoods, he just advised healthy choices and avoiding extremes. I think some people were disappointed with his answer because they were probably ready to follow "The Billy Blanks Diet," but I think he responded well.
Someone asked if he lifted weights and I surprised to learn that he doesn't. He said the only resistance training he does is in the Tae Bo workouts, like the resistance bands and bars. We did a routine with the bands toward the end of the workout and it was no joke! At one point, we were performing squat jumps with a military press at the top and I was about ready to die right then and there.
All in all, it was a really cool experience! I'm glad I was able to make it, despite limping out of bed the next morning, haha. Billy is a great instructor, a true motivator and one of my all-time favorite fitness idols. Now I just need to hunt down Jillian Michaels, Jackie Warner and Jari Love and I'll be good to go, haha.