After finishing last night's dinner, I found myself whistling this song:



Why? Because I ate delicious beets. And I'm a huge dork.
I tried my first beets a few months ago and instantly became a fan. So I was super stoked when my grandma brought me some fresh beets from her garden last month.
When I got home after work, I immediately turned on the oven. I wasn't 100% sure what I was going to make at that point, but I knew
roasted beets
had to make an appearance somehow. I sliced them up, tossed them in olive oil, salt and pepper and stuck them in the oven.
I also had a couple of
acorn squash
and decided to roast one as well. While the veggies roasted, I started brainstorming and ended up with this: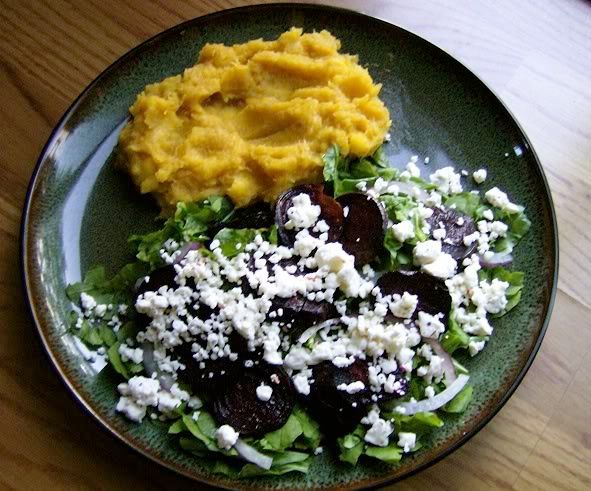 Roasted beet salad
, made with: arugula, red onion, dressing (a simple whisk of lemon juice, olive oil, salt, pepper and garlic powder) and tomato-basil flavored feta cheese.
On the side,
mashed acorn squash
, mixed with butter, salt, cinnamon and splenda (or your sweetener of choice).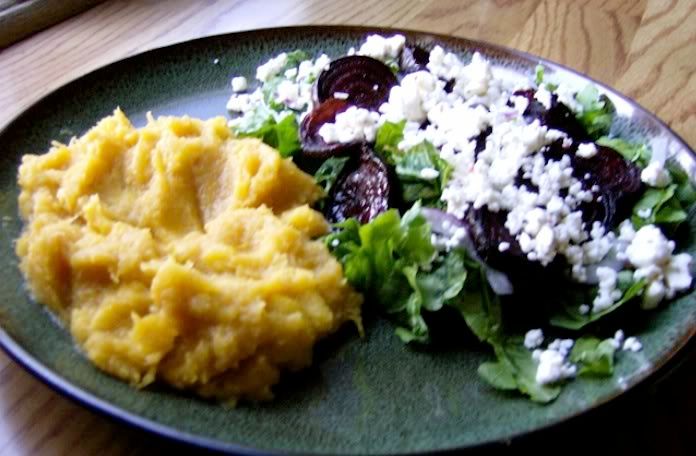 AHHHH! This instantly became one of the best meals I've thrown together. How do I know? Because I was literally giggling with delight after the last bite (seriously? I need to keep track of these rhymes and just start rapping about food).
The salad was perfect in so many ways... The sweetness from the beets complemented the bitterness of the arugula; the red onion added a nice bite; the lemon juice in the dressing provided a fresh, clean taste and the feta cheese added a delightful creaminess. Best. Salad. Ever. The only thing that was missing was some hot walnut action. I think walnuts would have been the cherry on top. Oh well. Next time.
And the mashed acorn squash? Delicious, as always. I never get sick of acorn squash prepared like that. It's a treat every time. And so warm and filling.
Yes, I have leftovers for lunch. And yes, it's going to be just as amazing as it was last night. I can't wait.
I'm sure I'm probably late in the game when it comes to eating beets, but if you still haven't given them a try, roast some! I noticed that some of the smaller slices roasted in beet "chips" and that flavor with an added crunch was amazing. Hello new favorite food!