So, those
Almond Butter Whey Cookies
from
my last post
? Well, I decided to follow up on those and experiment with making them more moist. I think I found the trick...
Add a ripe banana!
My revised recipe:
2/3 cup oats
1 tbsp creamy almond butter (could also use peanut butter)
1.5 scoops whey protein powder (I used Designer Whey's vanilla variety)
1 egg white (or 1/4 cup liquid egg whites)
2 packets Stevia (or sweetener of choice; I used 2 tbsp of granulated Splenda)
1/2 tsp baking powder
1/8 cup carob chips (optional; I used semi-sweet chocolate chips)
1 small ripe banana
1/2 tsp vanilla extract
dash of salt
-Pre-heat oven to 350˚F.
-Whisk dry ingredients together.
-Mash the banana and mix well with wet ingredients; add to dry ingredients.
-Use a teaspoon to scoop the batter onto a cookie sheet lined with parchment paper & sprayed with non-stick spray. The mixture will be a bit runny. Aim for 12 cookies.
-Bake for 10 minutes.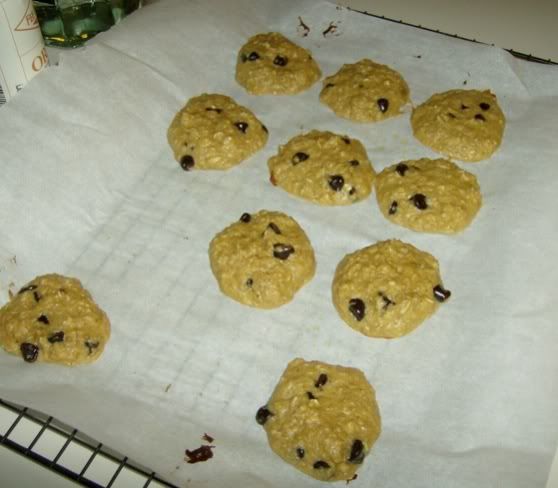 I ended up with 12 this time (2 are missing from the picture after Doug and I did a little quality control).
MUCH better! The mashed banana made a big difference. Plus, it added a nice banana flavor to complement the chocolate and nut butter. What more could I ask for? Moist, fresh chocolate chip cookies ready in well under 20 minutes.
The nutrition changed a bit though; instead of the original 30 cals per cookie, my revised recipe makes these
58 calories per cookie
. Still not bad at all, considering how much more satisfying they were than the first batch. Glad I decided to give this recipe another shot!