Today, I came across a recipe on the
Athenos Facebook Page
for
Chicken & Feta Salad Tacos
! (Well, technically the recipe says "Tostadas," but tostadas always strike me as a lame version of a taco that's way too much of a hassle to eat.) It called for radishes and since I actually had some on hand (a rare occasion), I thought, "Heck yeah! Why not?"
I ended up not following the recipe 100% though (of course).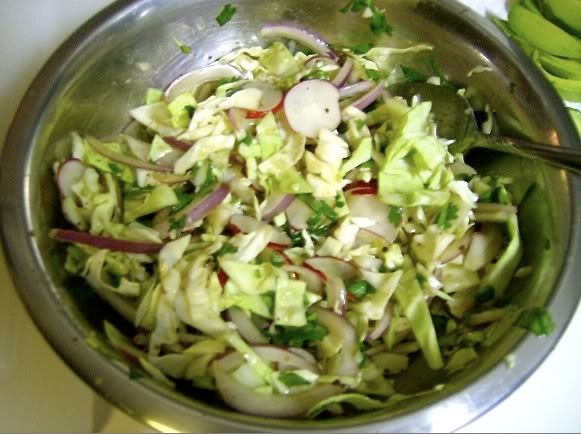 For the salad mix, I used
green cabbage, radishes, red onion, about 1/3 cup chopped cilantro and Kraft Light Balsamic Vinaigrette salad dressing.
Just toss everything together and set aside.
Cook the
chicken breast
in a pan, chop it up and assemble: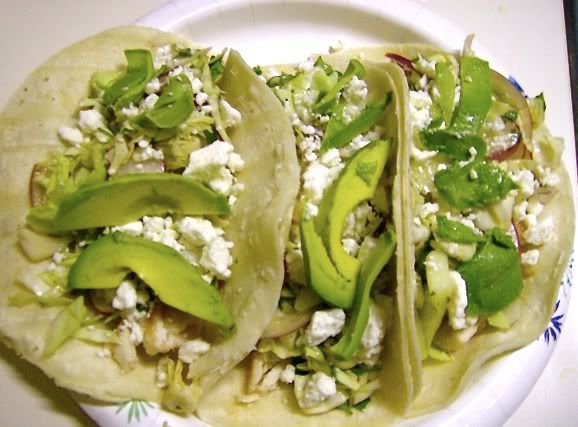 We built ours with
soft white corn tortillas
(which, I have to brag and note that I snagged them fresh from the
Rancho Liborio bakery
, complete with warm pillow-y goodness),
avocado slices and feta cheese
.
Awwww yeah.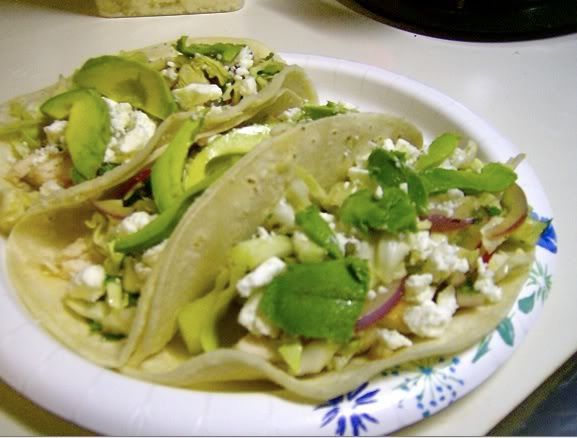 Definitely a success! I loved the fresh taste of the cilantro, the crunch of the cabbage & radish and the creaminess from the feta and avocado. I'm also glad we went with the balsamic dressing instead of Italian; it seemed to brighten up the chicken quite a bit. Lots of distinct flavors that went well together!
I love experimenting with tacos at home and look forward to making these again (hmm, tomorrow perhaps?). Give 'em a try!