I've had a hankering for homemade pizza these past few weeks and yesterday turned into an opportunity for experimentation...
Beet pizza
popped into my head for some reason and a quick Google search lead me to this great recipe for
Roasted Beet Pizza with Caramelized Onions, Garlic & Feta.
Doug made the dough with a
5-minute pizza dough recipe
(scroll to the bottom of the page) and soon the crust was ready for toppings: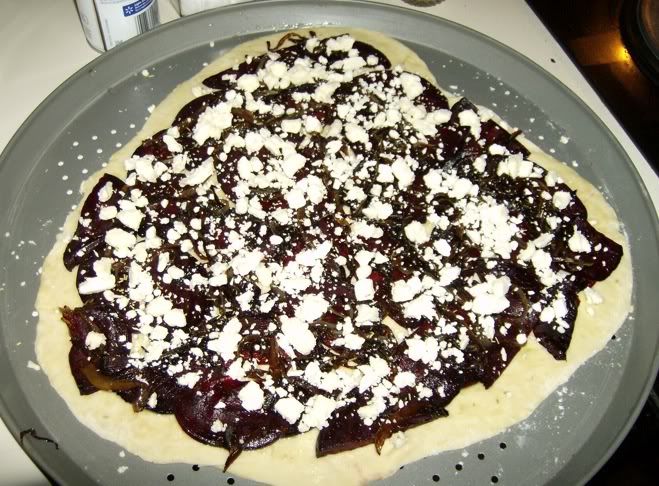 Some minor changes we made: skipped the brown sugar, scaled down the number of garlic cloves and amounts of oil, cooked the garlic with the onions instead of the beets and used dried crushed rosemary instead of fresh. The baked result: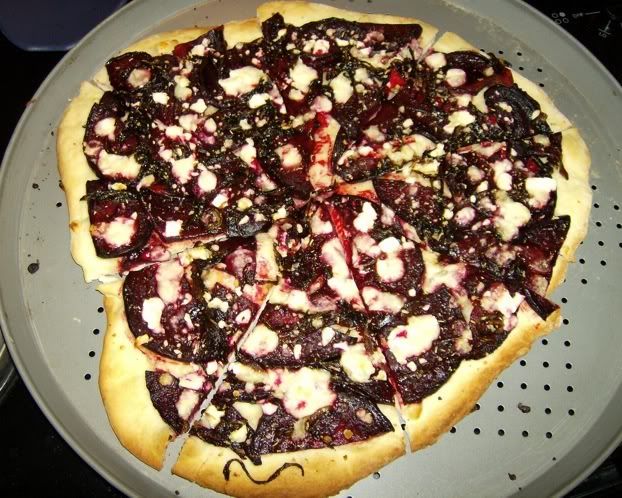 The dough was indeed a bit heart shaped and after adding the beets, Doug suggested that it would make a great Valentine's Day pie.
Since the beet pizza was my prime choice, Doug decided to create his own pie with the other half of the dough.
Potato with black olives, onions & turkey chorizo
: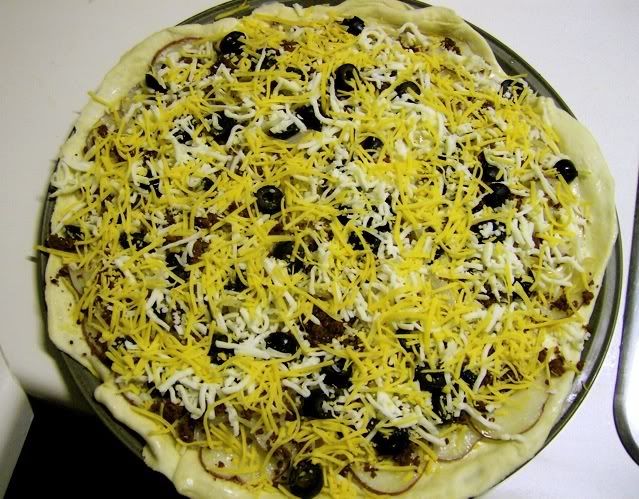 He roasted some red potatoes in olive oil, added sauteéd onions, leftover turkey chorizo, black olives and a mix of cheddar and mozzarella cheeses.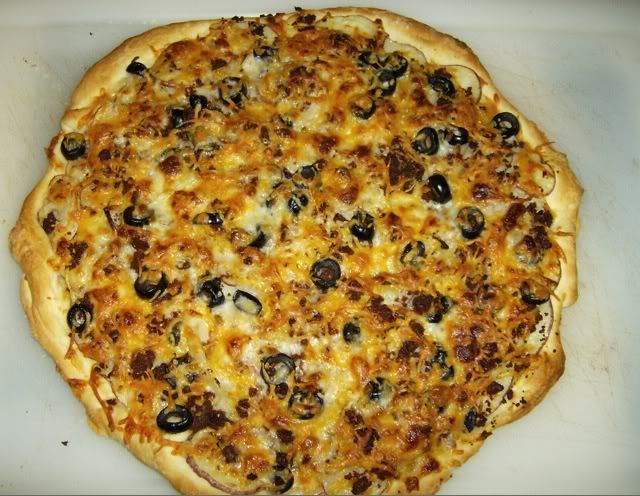 Both of these pizzas were phenomenal! I think the mix of soft roasted veggies with a crispy crust really made for a lovable texture. Other potato pizzas I've seen use Yukon Gold potatoes, but I love the red variety as well and was pleased with the final result. The saltiness from the chorizo added some life to the blandness of the potatoes.
As for the beet pie, you just can't go wrong when you mix beets and feta. We skipped the brown sugar during the caramelizing of the onions because we knew both the onions and the beets would release their own natural sugars after being cooked. Between the savory garlic and the tang from the feta, we ended up with a
near
perfect balance of flavors.