It's been a while since my last post, so on with the catching up, eh?
I've been keeping a separate, for-my-eyes-only journal where I record my meals, activities, set goals and conduct regular reviews of my progress (Yes, all of the types of things that sound like they should be on THIS blog, but I update it multiple times a day and sometimes it's messy and rant-y. You're not missing much, trust me.) I had reached a point where I wasn't happy with how I was feeling (heavy, slow, pudgy and depressed) and the only way to get back to my ol' self was a kick in the pants and some added structure to my eating and exercise habits.
One new goal that I'm hoping will turn into a regular occurrence is
planning weekly dinner menus
. I guess I previously avoided it because I thought it would take too much time and cause extra grocery trips, but it's actually really friggin'
easy and effective
. And even if I or Doug change our minds at the last minute, it still works out ok because at the very least, we have a plan to cook at home instead of opting for pizza or trying to wing it with sandwiches (not always bad options by the way, it was just starting to occur more than usual).
Probably the best tool I found to get me started is
Ready Set Eat
. You pick your main ingredient (chicken, fish, meatless, etc.) and it offers up a bunch of meal suggestions, complete with recipes and nutritional information. I've tried a couple already, including their
Black Bean Pasta Bowl
!
The original recipe needed to be jazzed up with some flavor, so here are some changes I made to my version:
Used 1 can black beans and 1 can kidney beans
Added one sauteéd onion (chopped) and 2 cloves of minced garlic
Used 2 heaping tablespoons of Famous Dave's Rich & Sassy BBQ sauce
Added one 8 oz. can of tomato sauce
Added about 1 tbsp dried parsley flakes
Used much more cumin
Garnished with diced avocado
Added salt & black pepper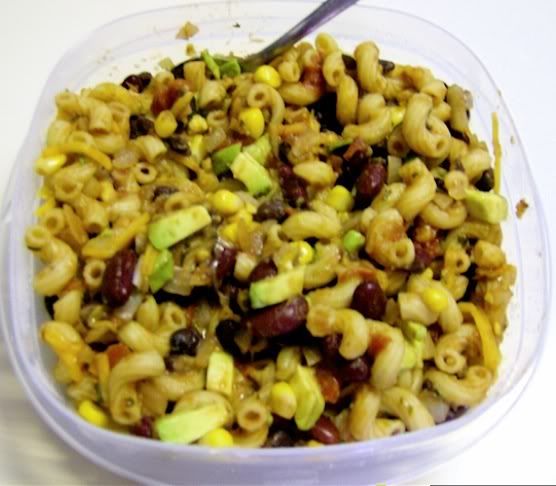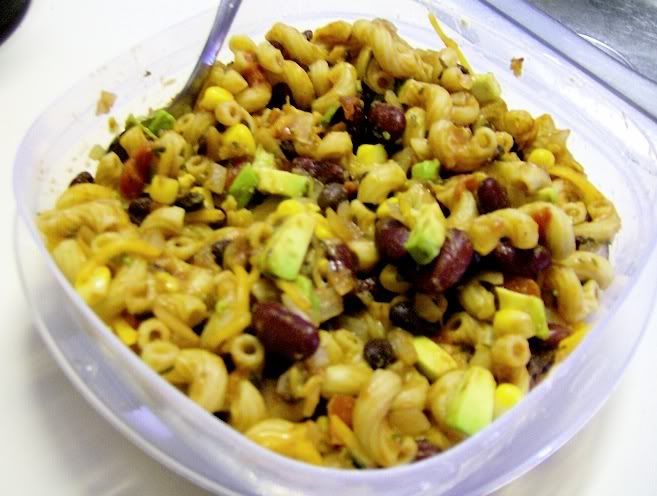 It probably doesn't look or sound like anything special, but this was hands down a delicious, FILLING meal! And full of health too; packed with protein, fiber, antioxidants, healthy fat and even some omega-3s since I used
Barilla Plus Pasta
.
Subtle heat and sweetness from the BBQ sauce and nice crunch from the corn. Doug was skeptical when I showed him the recipe, but after tasting the finished product, he definitely approved.
Great meatless meal that takes well under 30 minutes to get on the table!
While Ready Set Eat is a great resource, I would caution that their meals
tend to be on the bland side
, so don't be afraid to add your own flavor enhancements.
As for
fitness
, I've kind of been all over the place. Still rocking the
Nike Women NTC app
, but have also been mixing in stuff by Jari Love, Jackie Warner, Bob Harper and good ol' Jillian Michaels. It had been ages since I last did her Banish Fat/Boost Metabolism DVD; I forgot how much of an ass-kicker it is, especially in the second half!
I'm also running a anywhere from 3-7 miles a week and throwing in some sprint intervals for "fun." My pace isn't as great as
it once was
, so I'm slowly trying to work my way back. In terms of overall fitness though, I'm making pretty rad progress. I'm having more of an athlete attitude and being more present during my workouts. Instead of daydreaming about looking good in a bikini, I'm focusing on the mind-muscle connection and how much stronger it's making me.
Also eating up some of my time & thoughts these past couple of weeks is deciding on what to do with my
income tax return
. The following ideas have come to mind:
Save it.
Buy an incline trainer (which technically I did, but then canceled the order minutes later).
Get a dog.
Buy boxing gear.
Go to Vegas.
Finally go for my personal trainer certification.
Kitchen Aid Stand Mixer.
After many distracted days and a few sleepless nights, I've narrowed my choices down to saving the money, dog or personal training, the latter being the top choice. I've been talking about getting my trainer certification for a few years now and given my current job satisfaction (or lack thereof), I need a more productive outlet for my fascination with fitness and health. I'm not expecting to be the next Jillian Michaels or even train full-time, I just want to help people realize their potential, one session at a time. I also believe that studying the material will help me realize my own potential as well; I've spent several years thinking I couldn't achieve certain things and it's caused a lot of missed opportunities and regret. I'm done questioning what my body is capable of doing and ready to just do it (damn you, Nike!).