Seems like it's been a while since I posted about food, so how about some tasty catching-up?
My 28th birthday was this past Tuesday and I decided to create a nice lil' treat for myself before starting the day. I present to you,
Black Forest Birthday Breakfast
: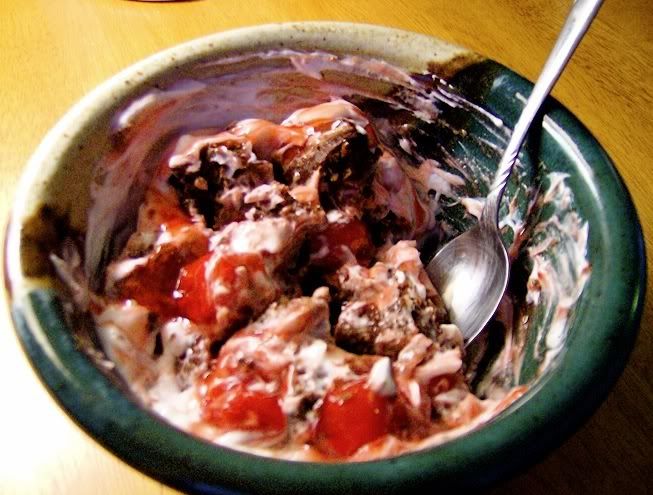 In a bowl, I combined:
1/2 cup 0% Fage yogurt
Splenda (or sweetener of choice)
1/3 cup No Sugar Added Cherry Pie Filling
1 Deep Chocolate Vitatop, warmed in the microwave
Mash everything together and enjoy.
Dessert for breakfast! So, so good (and under 200 calories). Thanks to the large amount of left over pie filling, I repeated this combo for breakfast this morning and will probably have it again tomorrow. And the next day. And the next day... Why? Because I'm
Team Cake
.
Side note: I'm really glad Costco started selling Vitatops- MUCH more affordable this way. Another budget-friendly option is to
buy the mix on Amazon
and make your own!
Now, time to switch gears from sweet to spicy. A few weeks ago, I came across a Ready Set Eat recipe for
Buffalo Chicken Chili
. Doug made his version, all nice and pur-dy: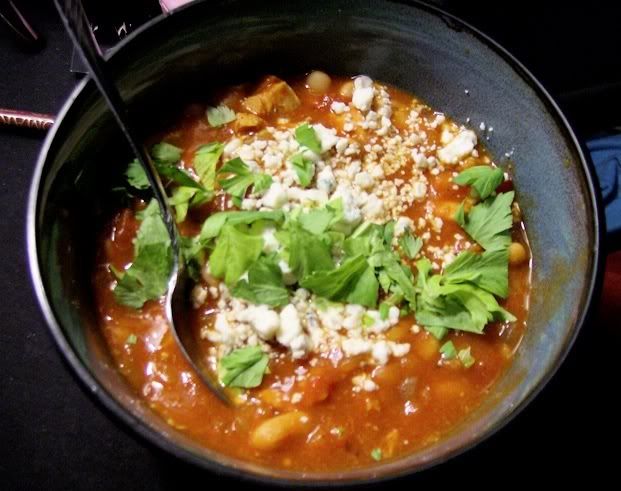 Garnished with bleu cheese and celery greens. We used
white beans
instead of black; the creamier texture of the white beans just seemed to be a better fit. Our version also used chicken breasts (instead of thighs), carrots, onions, extra tomatoes, extra wing sauce, chicken broth and reduced-fat bleu cheese.
If you're craving chicken wings, but still want to keep things healthy,
you really can't go wrong with this dish!
Tofu could be used as well
, for a great meatless option.