Ah, love and cooking; with time, patience and the desire to improve (and impress), the collision of these two worlds can be a beautiful thing. When Doug and I first started dating almost 5 years ago, his kitchen skills were far more advanced than mine. I could certainly make more than toast, but didn't shy away from pre-mixed boxed or frozen entrees. Doug on the other hand was already an avid Alton Brown fan who grew up in a family of cooks. I was pretty intimidated by him when it came to cooking meals together because there were a lot of basic skills I lacked and flavors I hadn't experienced.
After years of learning from Doug, watching a shitload Food Network and taking my palate out of its comfort zone, my appreciation for the world of cuisine has changed dramatically. Cooking together has really become a deeply ingrained facet of our relationship; instead of feeling intimidated, I now feel totally comfortable collaborating with Doug on meals and rarely question whether or not the results will taste ok. Last night's dinner was one of those successful collaborations that ended with lots of "Mmmm!"s and a high-five.
We started with a roasted beet & spinach salad: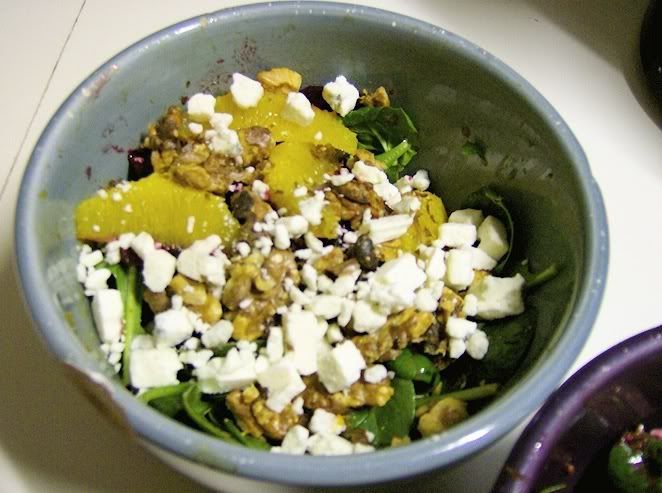 Topped with orange segments, roasted walnuts, reduced-fat bleu cheese and Doug's orange vinaigrette dressing.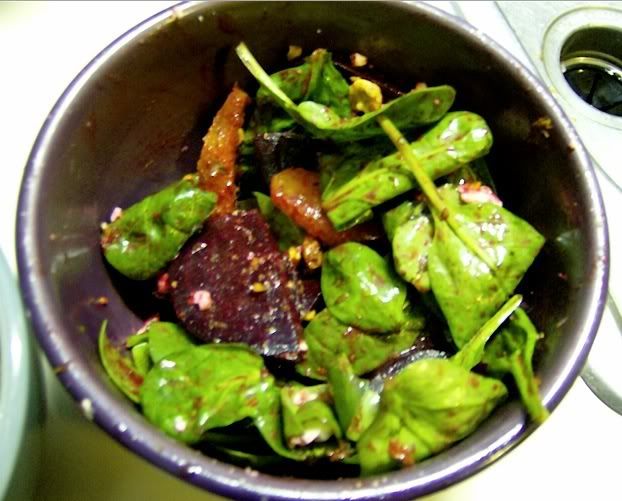 The main course involved some hot foil bag action and yielded tender, delicious results: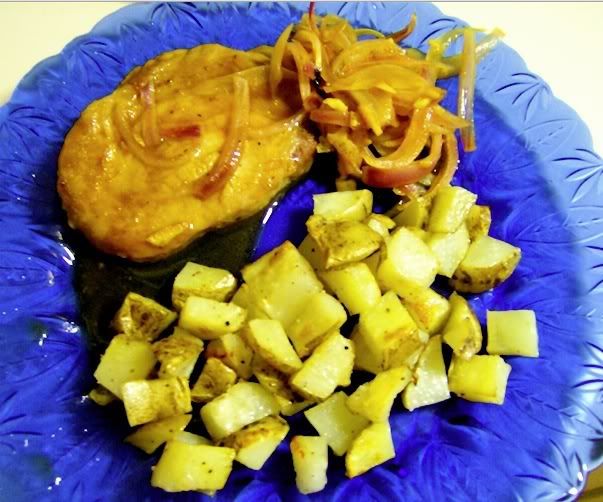 (I know, I need to find more appealing plates than these blue ones my grandma gave me years ago. Someday.)
Pork chops and red onions slathered in orange marmalade and BBQ sauce, wrapped in a foil pouch and baked until cooked through; diced potatoes, olive oil and a couple of garlic cloves baked using the same method.
Once the pork and potatoes were cooked through, I opened the foil and cooked them both under the broiler to add some nice crunch along the edges.
Not pictured is a loaf of sourdough bread that was marked down to 59 cents (!!!). Toasted a few slices and rubbed with the roasted garlic cloves from the potatoes. The mix of textures in this meal was spot-on. Great way to end the weekend!