Last night's dinner was another specialty a lá Doug. There was brief talk about taking advantage of a special at Domino's Pizza, but remembering how much cake I ate over the weekend and into Monday, I quickly shut that idea down. So back to healthy meal planning we went.
We ended up with a
Quinoa salad, topped with grilled chicken and homemade vinaigrette dressing
: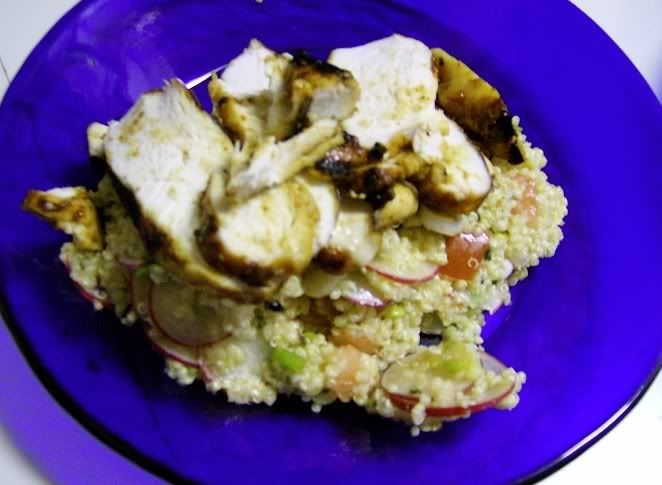 For the salad mix, Doug tossed together
diced tomatoes, sliced radishes, green onion and cooked quinoa
. For the dressing, he whisked together:
Minced garlic
Lemon juice
Olive oil
Dijon mustard
Apple cider vinegar
Cayenne pepper
Ancho chile powder
Dried cilantro flakes
Salt & pepper
The chicken was cooked on the grill and brushed with
Famous Dave's Texas Pit BBQ sauce
. If you want to go meatless, this salad would go great with black beans and corn.
Fresh, clean flavors and a great summer dish that required minimal use of the stove. Works for me! And apparently it also worked for Randal, who did a great job of cleaning up some quinoa that spilled on the floor:
Before dinner, I already had dessert on the brain, so I decided to try a couple of recipes I had seen in the latest issue of
Oxygen Magazine
, both of which featured whey protein powder.
The first recipe was a batch of
Almond Butter Whey Cookies: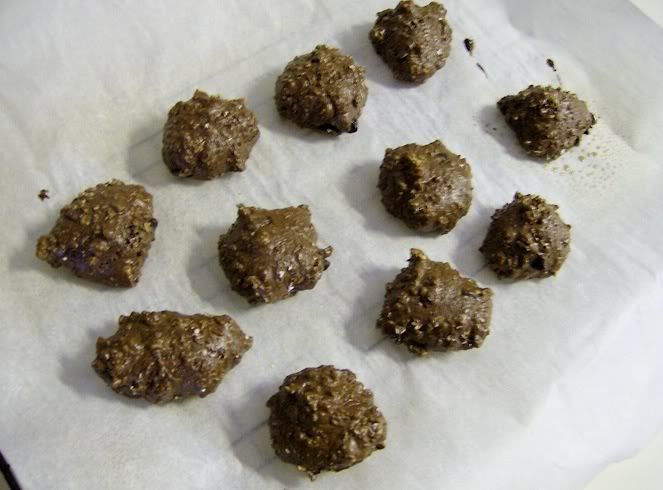 Bite-sized, of course: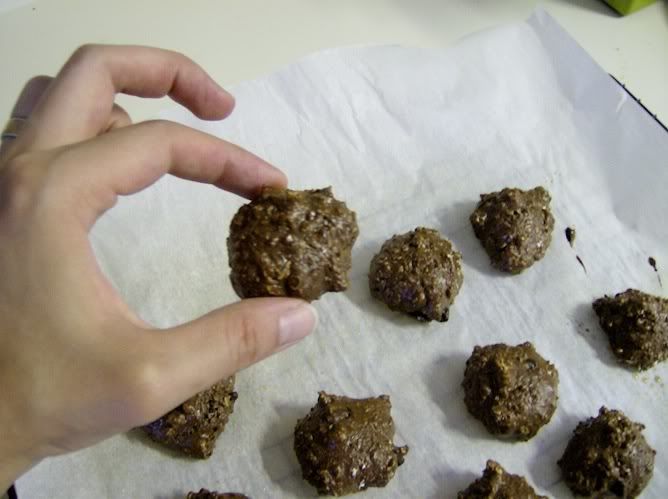 For this recipe, you'll need:
1/2 cup Oats
1 tbsp creamy almond butter (I used Barney Butter; it's so smooth!)
1 scoop whey protein powder (I used Designer Whey's chocolate variety)
1 egg white (or 1/4 cup liquid egg whites)
2 packets Stevia (or sweetener of choice; I used a generous tablespoon of granulated Splenda)
1/2 tsp baking powder
1/8 cup carob chips (optional; I used semi-sweet chocolate chips)
(I also added about a tablespoon of cocoa powder for extra flavor, along with a dash of salt.)
Whisk together the dry ingredients in a bowl, then stir in the wet ingredients with a spoon. The dough will be really sticky and kinda difficult to work with, but mix as well as you can.
Use a teaspoon to make the dough into golfball-sized portions. Bake in a 350˚F oven for 10 minutes. I ended up with 10 cookies instead of 12, but whatevs.
Each cookie is about 30 calories!
Things to do differently next time:
While the chocolate flavor in these cookies was spot-on, Doug and I both agreed that they were
DRY
. Like really, really, I-need-copious-amounts-of-milk-stat! dry. I'm already planning to make another batch, but I will definitely
play around with adding milk and/or unsweetened applesauce to give them some much-needed moisture.
A little softer, and these could be a pretty satisfying, guilt-free treat when the chocolate craving hits.
The second recipe I tried was for
Chocolate Peanut Butter Cups: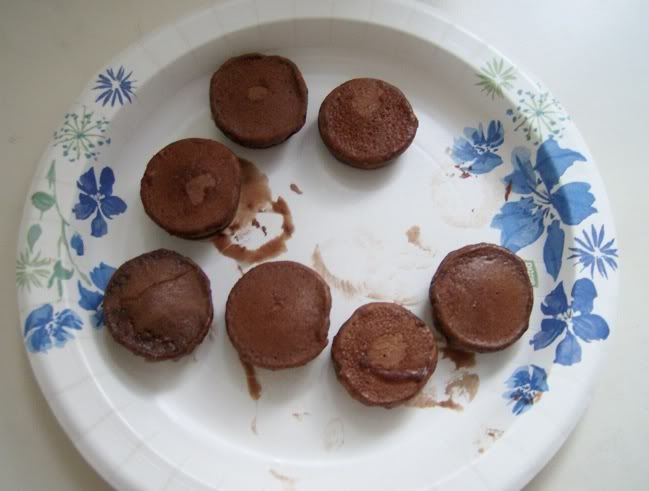 In a blender, add:
4 oz water
1 scoop of chocolate protein powder (I used Designer Whey)
1 tbsp peanut butter (I used Peanut Butter & Co's Dark Chocolate Dreams)
1 tbsp cocoa powder
1-2 packets of preferred sweetener (I used a generous tablespoon of granulated Splenda)
Blend until well mixed, pour into a muffin tray and freeze for 1-2 hours. (I used a mini muffin pan and ended up with 10 cups total.)
Things to do differently next time:
As far as the recipe goes, I don't think I'd change much because they tasted pretty darn good. But they're also
super-messy
to eat because it's basically like eating pieces of a frozen fudge bar without the stick. That said, I think this recipe would work as a really great base for a low-cal ice cream. I'm going to try mixing it with a few cups of almond milk, freezing it and seeing what I end up with. Given the creaminess of the cups, I think the ice cream would turn out pretty good.