Um, where the eff did June go? I guess I shouldn't complain about summer going by so fast because I hate the heat, but having time to breathe and y'know, remember what day it is would be kinda nice.
Anywho, Monday, I got back from a long weekend in Vegas to celebrate my sister's 21st birthday. And also kinda celebrating 5 years with Doug: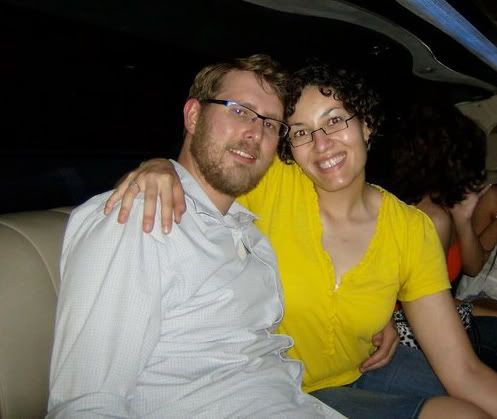 Ignore the red eye.
It was a great trip, filled with public drunkenness and drag queens, but of course, the main thing I want to talk about is THE FOOD!
My mom treated us all to a buffet at the Paris hotel the first night, but after that, Doug and I quickly decided that we didn't want to do the buffet thing during the whole trip. We stuck to cheaper, non-buffet eats (thank you Panda Express for supplying us with veggies!).
We did however make not one, but two special trips to a new favorite joint,
Hash House a Go Go
. I originally saw them featured on Man vs. Food and wrote the name in case we got the chance to actually visit. Turns out, they were located in our hotel (stayed at the Imperial Palace), so we made plans to eat there for breakfast. The dish that beckoned?
Sage Fried Chicken & Bacon Waffles,
topped with fried leeks and a maple reduction: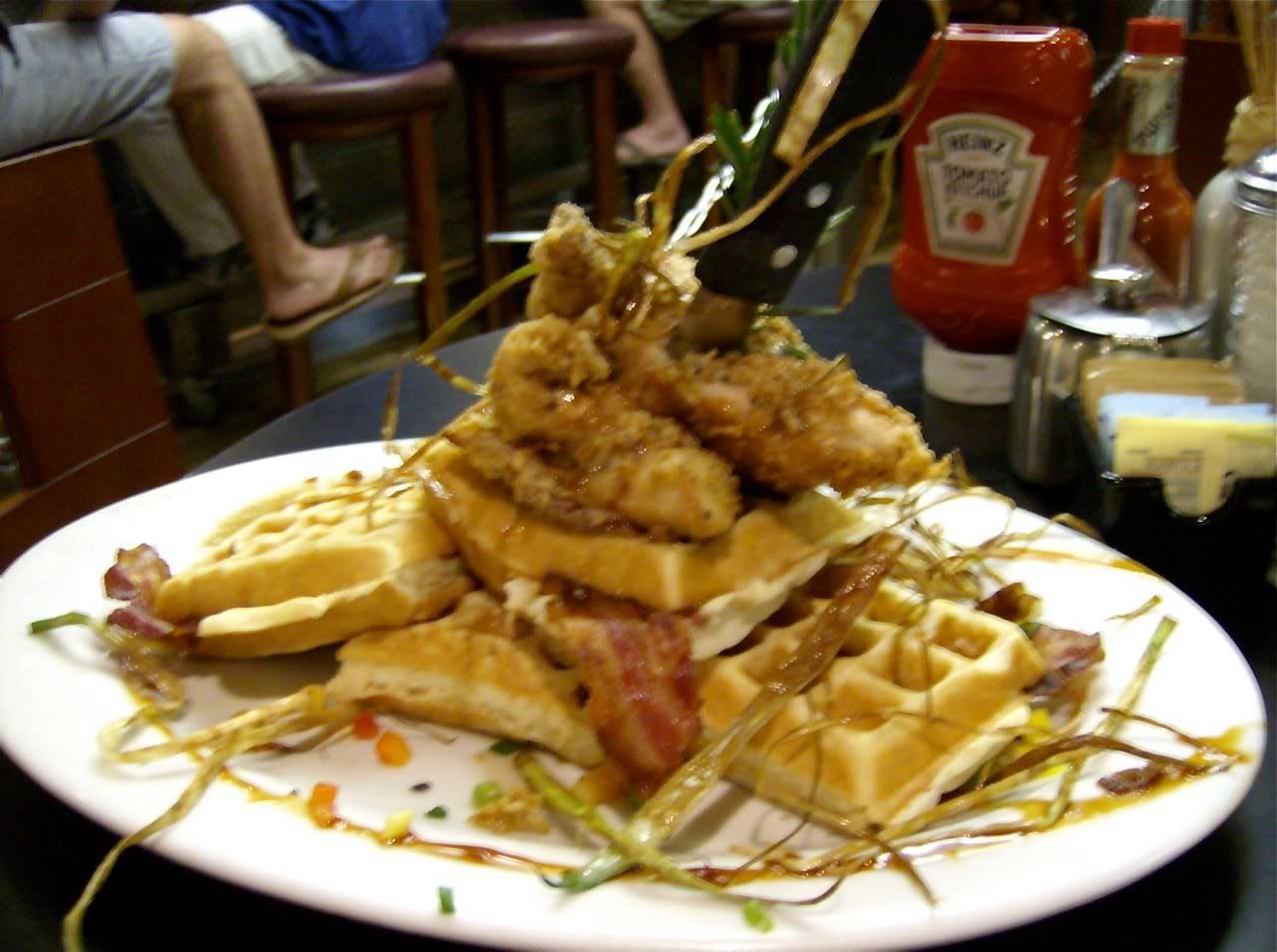 Ultimate food porn. I wanted to get a better picture, but I was also eager to try my first bite, so I threw down the camera in a hurry, attacking the poor dish like a lion on a gazelle.
Definitely a chorus-of-angels-worthy dish. My only regret is that we didn't think to share one plate; this place serves up H-U-G-E portions. Oh well. We munched on the leftovers during the day, so we could skip snacks and lunch. This method came in handy for balancing my walk-around-vodka munchies.
Since we enjoyed breakfast so much, we decided to go back for dinner. Complimentary
buttermilk biscuits
, topped with a warm honey glaze: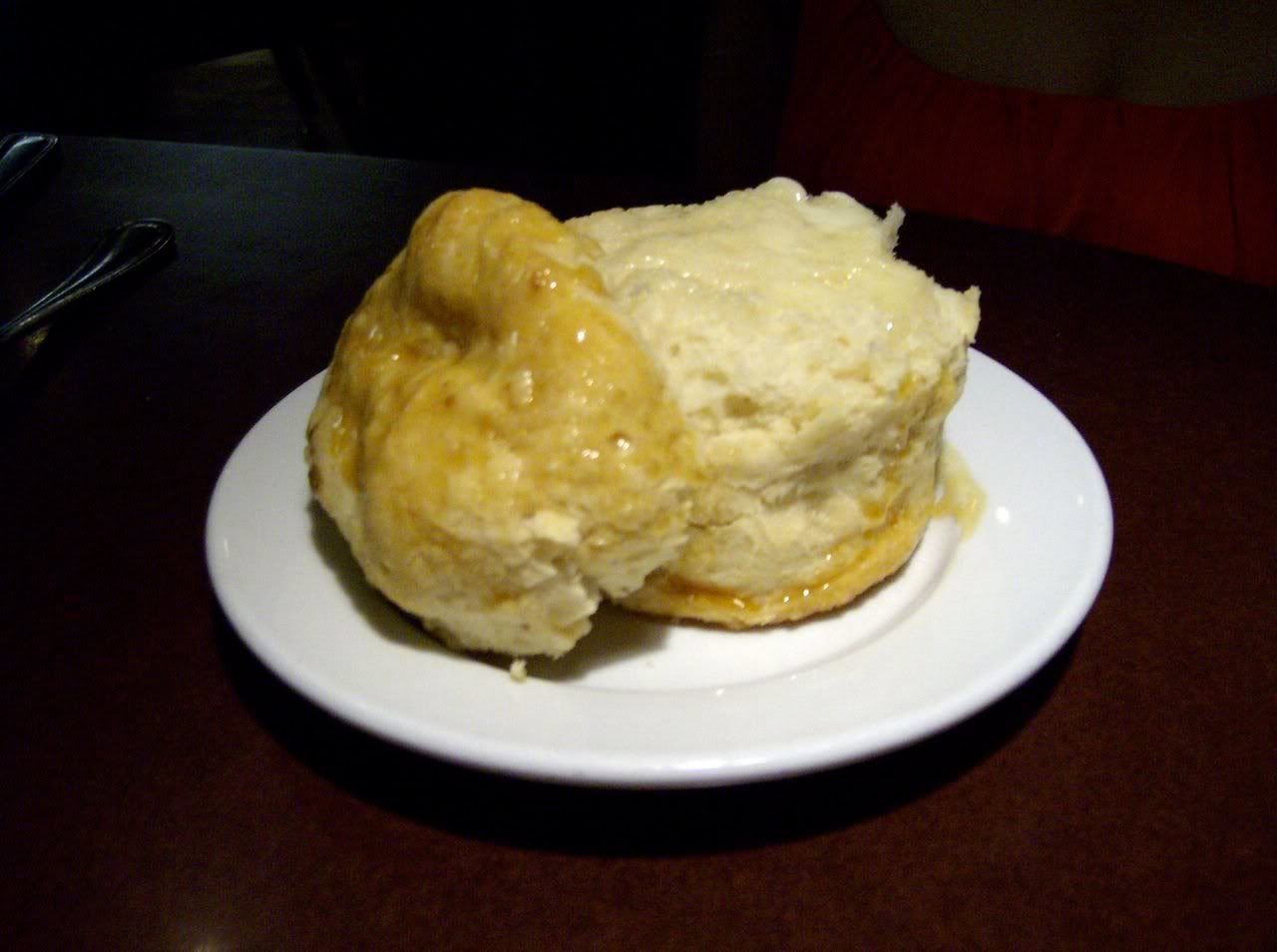 Sometimes, there just aren't enough calories in day... I would've loved to tried these babies with some sausage gravy!
Next, we ordered an appetizer;
Tiger Prawns, fried in cornmeal
: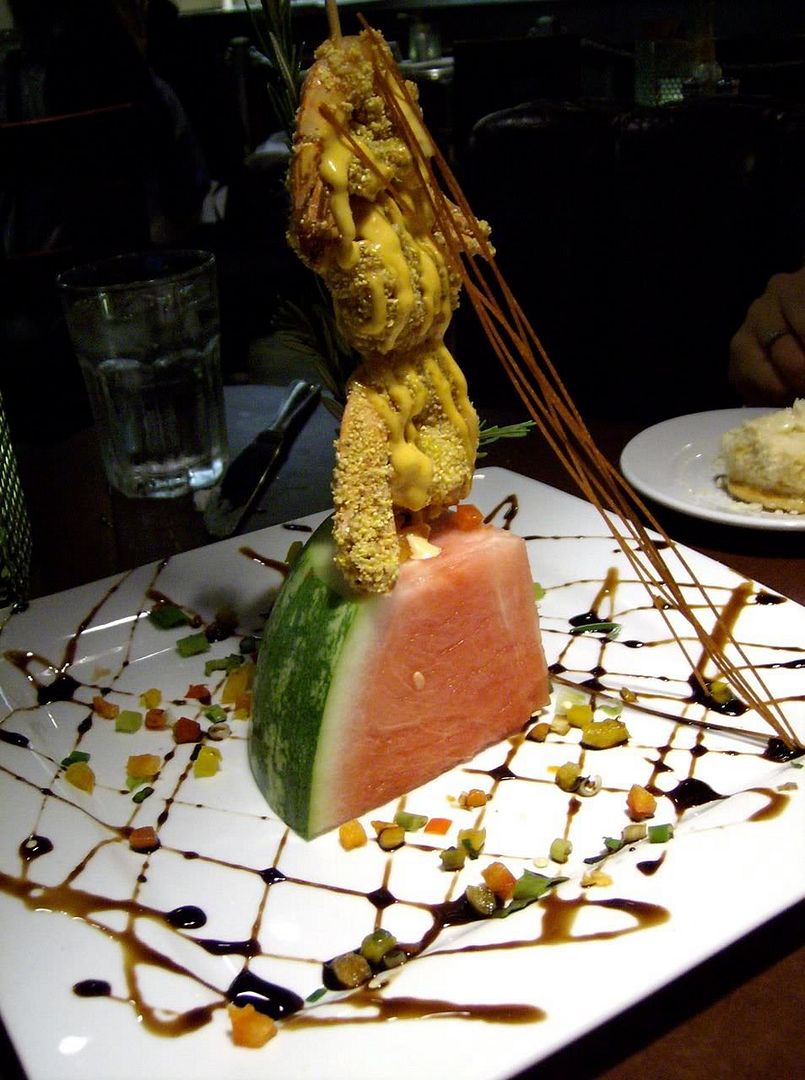 Served with a creamy chipotle sauce and garnished with fried angel hair pasta. I must admit, I haven't been to too many places that focus on presentation, so this made the trip so much more enjoyable!
Next, we decided to SPLIT a burger. We learned our lesson from the Chicken 'n' Waffles incident and knew that one burger would be plenty for the two of us. And it was. This is
the #5 burger, stuffed with cheddar, applewood bacon and avocado
: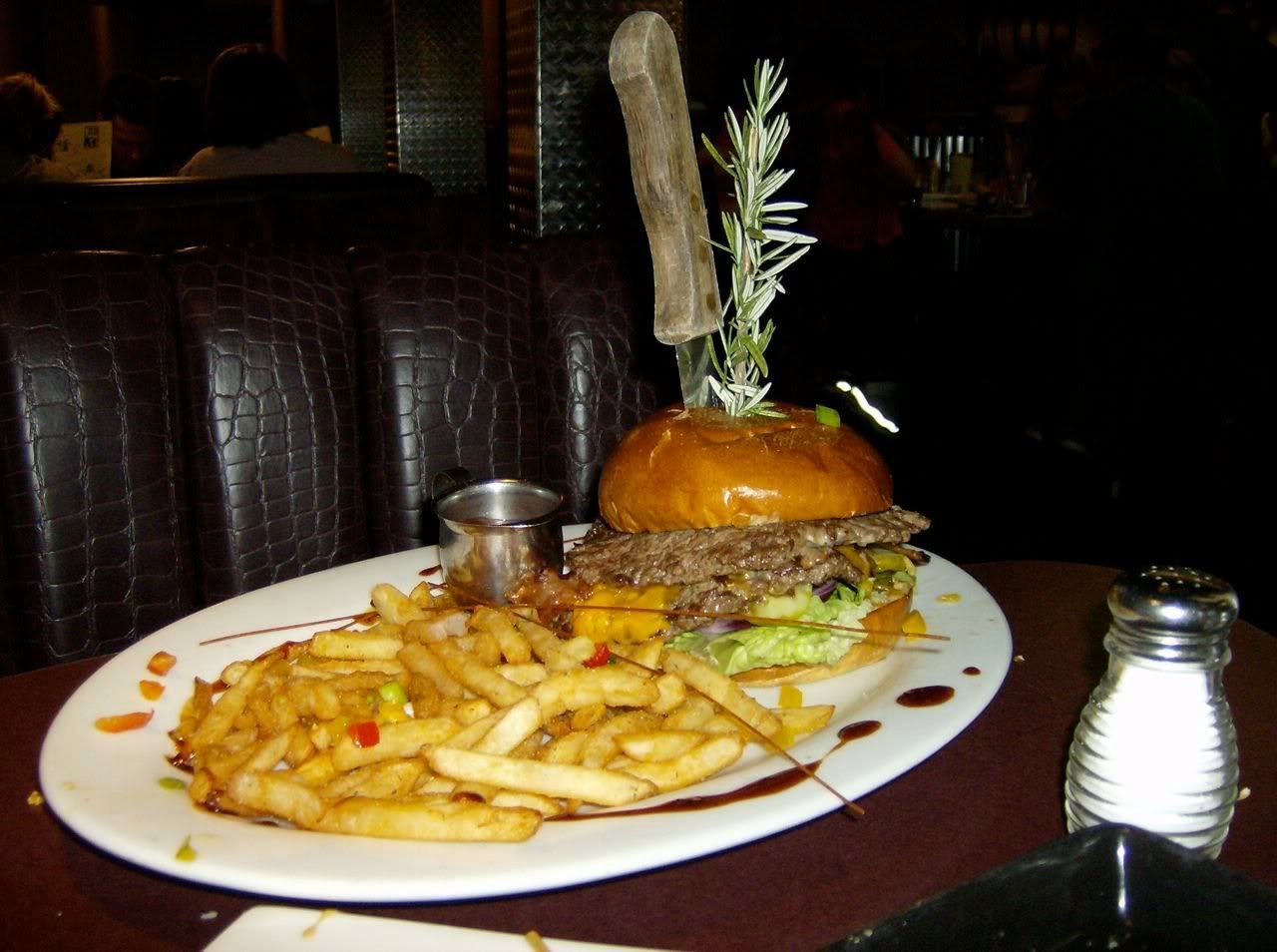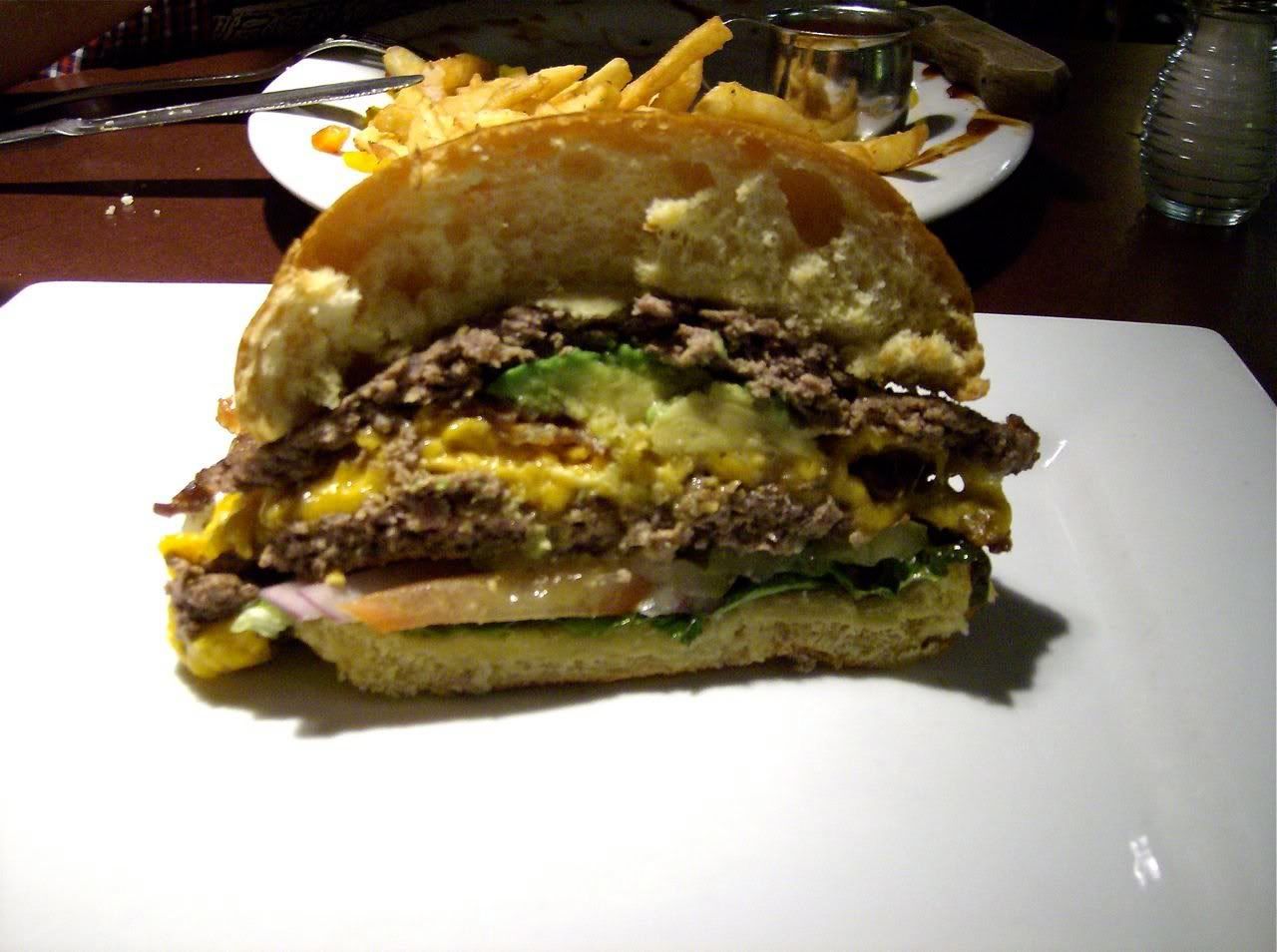 Hot damn. Another winner! So, next time you're in Vegas and looking to splurge, pleasepleaseplease don't pass this place up! Aside from their location in the Imperial Palace, they also have a stand-alone location near the Sahara. Oh, and their original location is in
San Diego
as well.
Lots of calories consumed, but we also walked
everywhere
, so everything balanced out pretty well. We had a blast, but it's great to be home. I've had my share of excess for the year, haha. Hope everyone's having a great week!