After eating the dinner Doug and I put together tonight, this song popped into my head:
You're welcome!
I'll start with the
quinoa salad
I made: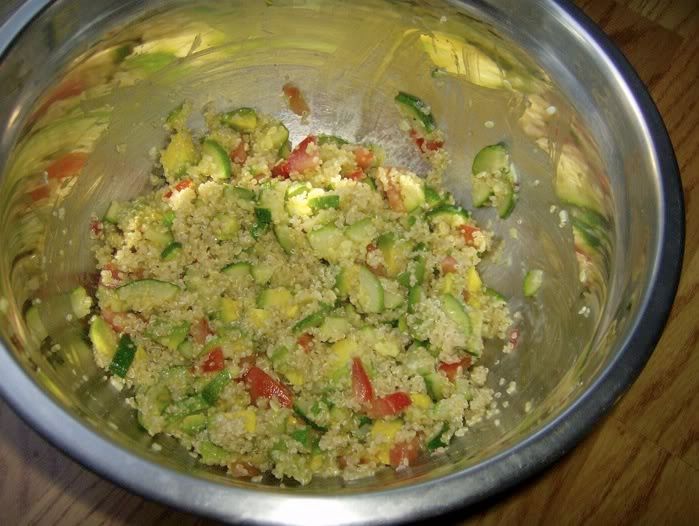 I sauteéd some
zucchini
with salt, pepper and a clove of minced garlic. I set it aside to cool and then later tossed it with some cooked quinoa,
fresh tomato, avocado chunks and a quick dressing
(made with 1 tbs olive oil, about 2 tbs of lemon juice and a pinch of kosher salt).
Ahhhh!
I was so pleased with how this turned out, especially since this was our first time trying quinoa. I found a simple guide for
preparing quinoa
on The Kitchn website. Simple and filling. Definitely a new favorite starch!
The other part of the meal featured some good ol'
surf & turf: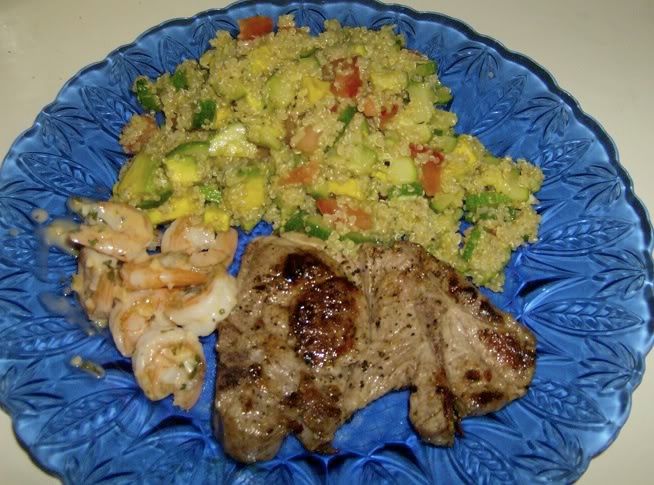 Lamb chops & shrimp.
We were browsing the meat section at Sunflower Farmer's Market and spotted a couple of small lamb chops from New Zealand, marked down with a coupon. After the mark down, they were less than $2, so it was a pretty irresistible deal! While I was working on the quinoa, Doug took over the meat. He rubbed the lamb in
finely minced garlic, salt, pepper, olive oil and rosemary
. For the shrimp, he tossed them in
oil, butter, garlic, salt, parsley, lemon juice and some dry vermouth
(we didn't have any white wine on hand). Both were just cooked in a pan on the stove top.
The meat was so tender and juicy. Granted, there was a good amount of bone and fat, but the meat itself was just great. Add the shrimp and the veggie quinoa and we ended up with a high-five worthy dinner.
Mad Men is coming on soon, so I'm cutting this post short, but I hope everyone had a great weekend (and hope you keep your eyes peeled for some good lamb deals)!