Yesterday's Meatless Monday dish combined two things that I enjoy:
Curry and beer
. But last night was the first time I enjoyed the two
together
. It was quite the tasty experiment.
As part of the
Foodbuzz Tastemaker Program
, I received a stipend to purchase
New Belgium Brewery
products and ingredients for a meal made with and/or paired with the beer.
I chose the
Trippel Belgian Style Ale
.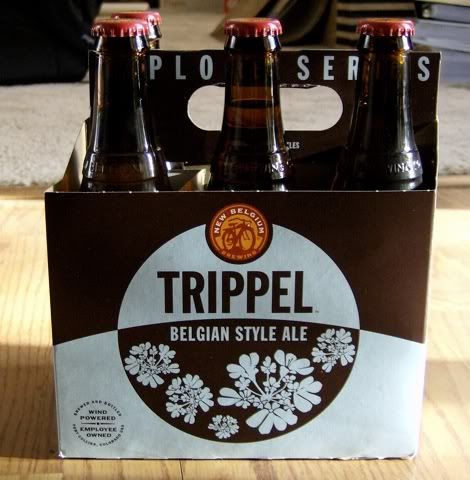 Since the main spice is coriander, Doug suggested a curry of some sort.
And so,
New Belgium Vegetable Curry
was born: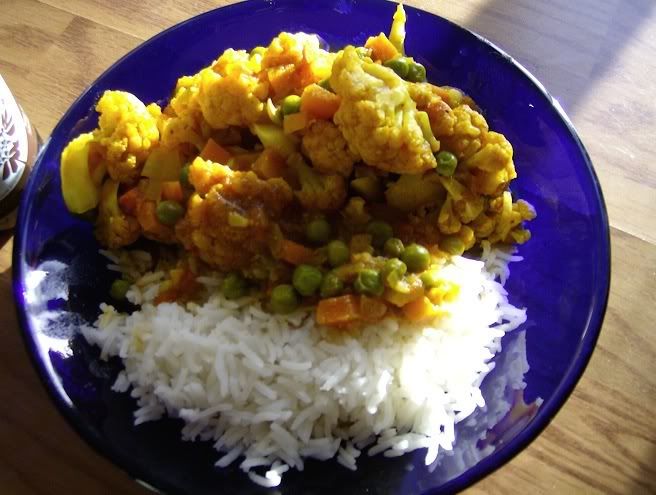 Ingredients:
1 bottle of New Belgium Trippel style beer
1 head cauliflower, chopped
1 onion, diced
1 tbsp canola oil
1 can diced tomatoes (14 or 15 oz, I believe)
2 large cloves of garlic, minced
1 tsp grated ginger
1 bag of frozen peas & carrots (12 oz)
1 tsp salt, plus more to taste
2 tbsp curry powder
1-2 tsp of garam masala
dash of cayenne pepper (optional)
1 cup basmati rice, uncooked
Add the oil to a large pot, set to medium heat. Add the onions and allow them to sweat for about 10-15 minutes. You're not trying to caramelize them, but rather slowly sweat and tenderize them. Add curry powder and stir for a minute or two.
Add the garlic and ginger and stir for a couple of minutes. Stir in tomatoes, salt then the beer. Let simmer for about 10 minutes.
While the base is simmering, prepare the basmati rice according to the package instructions (to save some time, we did the microwave option; place rice in a 2 quart microwaveable dish, add 2 cups water, cover and microwave on high for 5 minutes. Remove, stir and microwave for an additional 15 minutes on 50% power. Let sit for 5 minutes.)
Add the cayenne (if using) and additional salt, if necessary to the base. Stir in cauliflower and peas/carrots. Cover and continue to simmer until cauliflower is tender, about another 10 minutes or so. Add garam masala during the last few minutes of cooking. Serve with rice.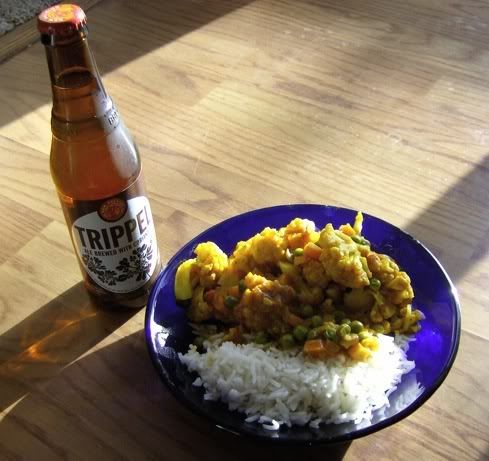 Great, flavorful dish. We sipped the beer by itself in between bites and aside from cooling down the effect of the cayenne, it also had a crisp finish and a smooth aftertaste, thanks to the coriander and the complementing spices in the curry.
Living in Colorado, I've been familiar with New Belgium Brewery for quite some time and have had a few of their beers in the past, but never really considered myself a huge fan. It wasn't until this Foodbuzz opportunity that I decided to give New Belgium another shot. I was pleased to discover how much I enjoyed the Tripple variety and even more impressed with how well it worked with our recipe. Warm curry, cold beer… What more could I ask for on a Monday night?