Quick dinner post from last night: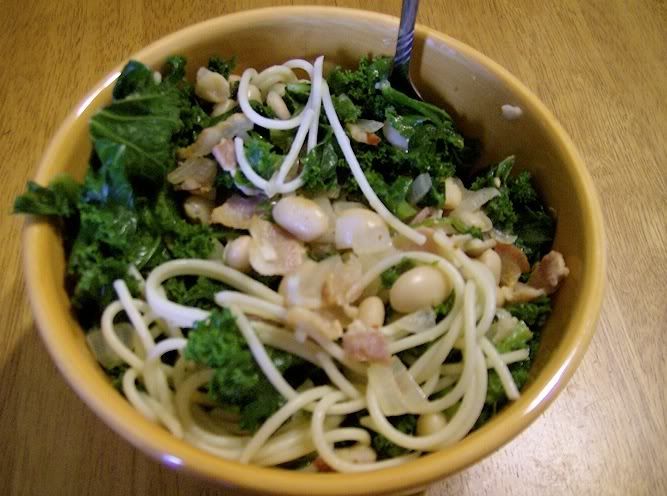 Pasta with Kale, Bacon & Great Northern Beans!
Serves two. You will need:
4 oz pasta (I used Ronzoni Smart Taste thin spaghetti)
4 slices of bacon, diced
1/2 medium onion, sliced or diced
1 clove garlic, minced
2 cups kale, rinsed and chopped (could also use spinach)
1 can Great Northern Beans, drained and rinsed (could use any preferred white bean)
salt & pepper to taste
crushed red pepper flakes (optional)
1-2 tbsp lemon juice (optional)
Get some water boiling for your pasta. While you wait, prep the bacon, onions, garlic and kale.
In a large pan, cook the bacon. Toss it onto a plate with paper towels and set aside. Drain *some* of the grease from the pan, not all of it. If your pasta water is ready, go ahead and drop the pasta at this point.
Add the onions to the bacon pan and if necessary, deglaze with a bit of water. Once the onions are sweating, quickly add the garlic, kale and a bit of salt & pepper. Stir continuously until the kale starts to cook down. You may need to add a more water to move this process along. Once the kale reduces significantly in size, add the beans. Feel free to add more salt, crushed red pepper and lemon juice at this point. Add the bacon bits back into the pan, stir, remove from heat and cover with a lid until the pasta is done.
Drain the pasta, divide into serving dishes and top with the kale/bacon/bean mix. Sprinkle on grated parmesan if you'd like and enjoy!
Lastly, a random Randal pic for the dog lovers: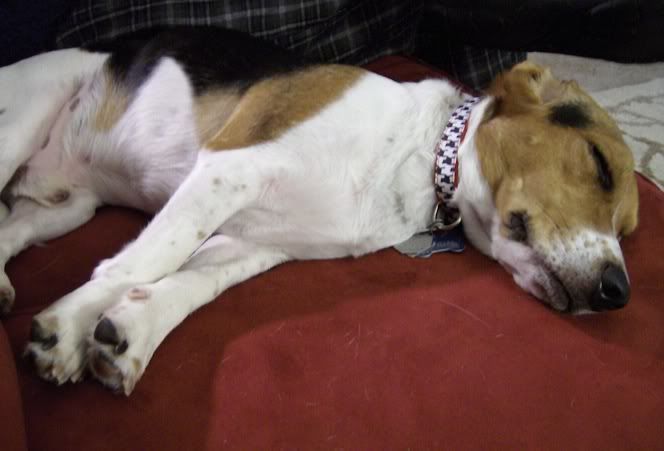 Sleeping, as usual. I always said I would never own a cat because of the hair, but Randal sheds so much, it doesn't even matter. Ah, well. He's cuter than most babies and a total goofball when he's awake, so I can't complain too much.