I'm trying really hard to come up with an enticing, witty intro to this post, but my head cold just won't allow it. I must warn that said cold demands strong cold medicine, so I won't be holding myself responsible for any weird, wacky nonsense that makes its way into this post. Just so ya know. Moving right along to the tasty bits, eh?
Let me first say that
Real Simple
is changing my life. I can't help it. I just started getting their magazine and was sucked in immediately. I've been browsing their recipes online for a while now and had a bit of a food porn moment when their
Butternut Squash Bread Pudding
recipe landed in my inbox the other day.
I have a special place in my heart for bread pudding. And butternut squash. And cheese. And eggs. In fact, I'd like to think that it's because of all the special things taking up space in my heart that I have trouble shopping for button-up shirts. Yeah, yeah, that's the reason...
Anywho, I had the intention of making this dish myself, but Doug felt it would be better if
he
made it so I could rest on the couch and continue my battle of the mucus.
He scaled the recipe down a bit so we wouldn't end up with 8 servings. And 1% milk was used instead of whole. Aaaand dried sage instead of fresh. Other than that, no other substitutions were made.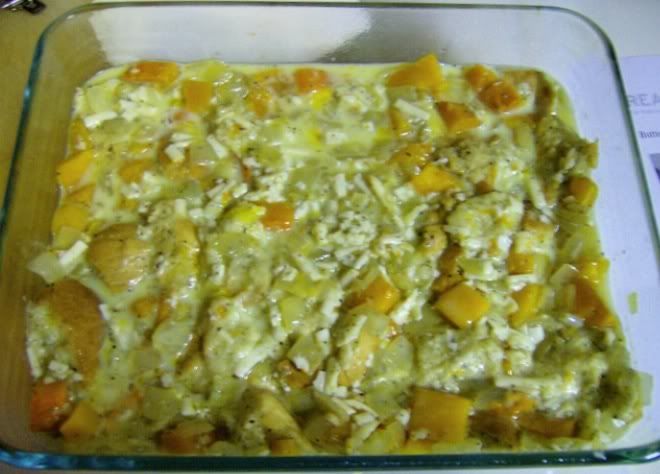 All mixed and ready to be baked.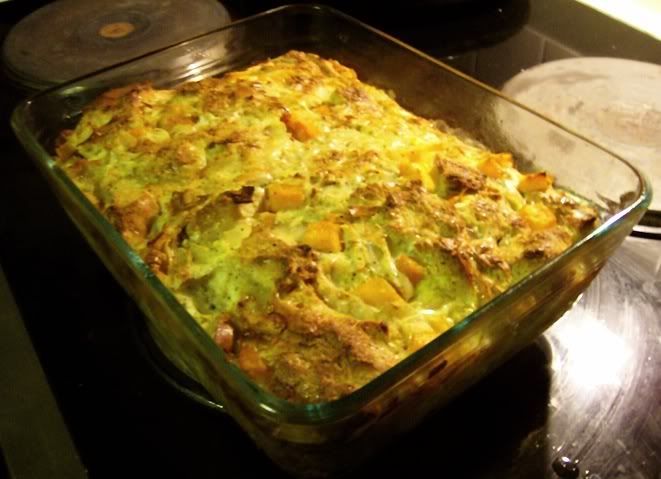 One (seemingly l-o-n-g) hour later.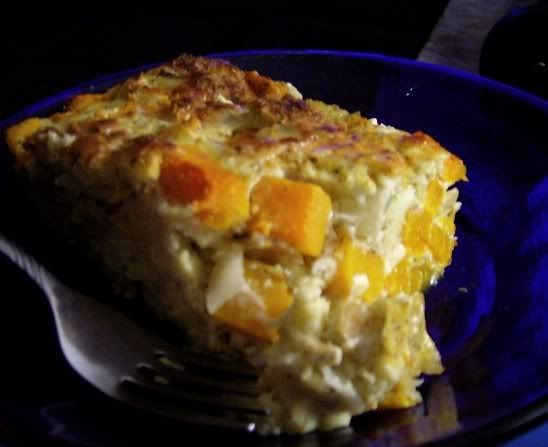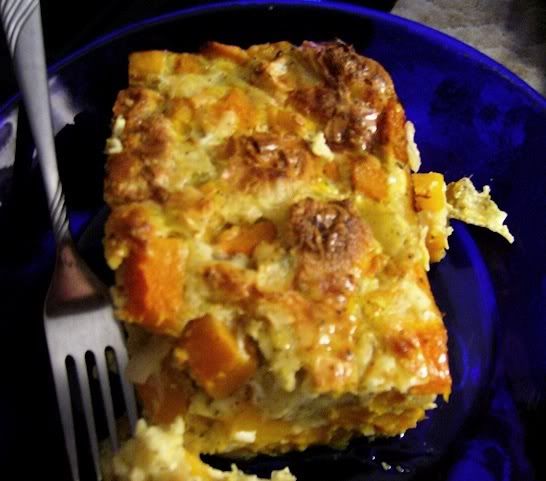 Hubba, hubba. This dish was so flavorful that I was still able to taste everything, despite my cold. We both agreed that adding some kind of smokey meat like
ham or bacon
would have been the cherry on top. In fact, I confirmed this theory by adding bits of ham to my leftovers this morning. And yes, it was even more awesome than the night before. This recipe is great for dinner, but would also make a
great holiday side dish or brunch item
as well.
That's all for today. I have all sorts of baking plans lined up, but they may/may not come through thanks to these damn germs taking over my upper body. Ah well. Hope everyone has a safe and restful holiday, filled with lots of good food and booze. Seriously. Drink to the Holiday Spirit! Drink to [forget about] the annoying relatives! Drink in my memory! That's all I ask of you, dear readers. That's all I ask.
Happy
Holidays!