Ever since I saw
Chocolate-Covered Katie
bust out
homemade Larabars
, the idea struck me as too easy to be true... But, hesitation aside, I picked up some pitted dates in bulk and decided to experiment with some mix-ins we had around the kitchen. The result?
Almond Joy LaraBros.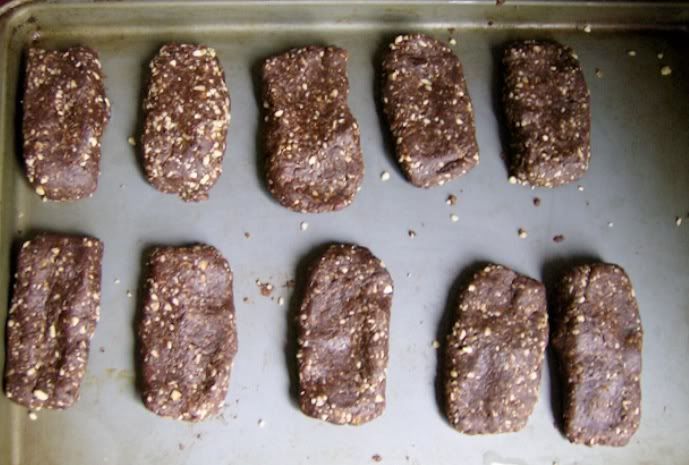 Yes, I'm completely aware of what these resemble. Har har.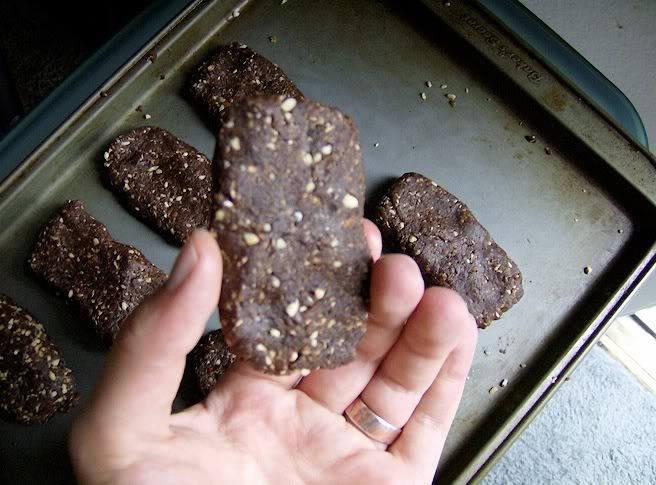 And yes, you read the name right; I can't afford to get sued! I'm known to say "bro" (or, if I'm feeling sassy, "brah") on a regular basis and to be honest, I do have bro-like tendencies, so the name just seemed to fit. No idea what I'm talking about? Do a little more research on these types of guys:
Minus the date-rape, but maintaining the ability to lift weights and throw down some tequila shots.
ANYWHO, here's my version of the recipe, which yielded 10 mini-bros:
1 cup pitted dates, packed
1/4 tsp vanilla extract
1/8 tsp salt
1/4 cup unsweetened shredded coconut (I used the reduced-fat kind by Let's Do Organic)
1/4 cup semi-sweet chocolate chips
1/2 cup raw almonds
Throw everything in a food processor and blend until well-mixed and you can form the mixture into bars or balls. Each bar has about 135 calories.
Not much to look at of course, but hot damn, they tasted good and did indeed mimic an original Larabar almost 100%. Had I known how easy, fast and cheap these were to make at home, I would've tried it months ago. I still have plenty of dates left, so next time, I think I'll experiment with some fruit flavors.
After making my
bars
bros, I proceeded to make dinner. I knew I had some broccoli and asparagus that needed to be used, as well as one of 3 jumbo zucchini that my grandma brought me, so I started by roasting them all in a little bit of olive oil, salt & pepper. After a few minutes of brainstorming, I settled on
Roasted Veggie Pasta
: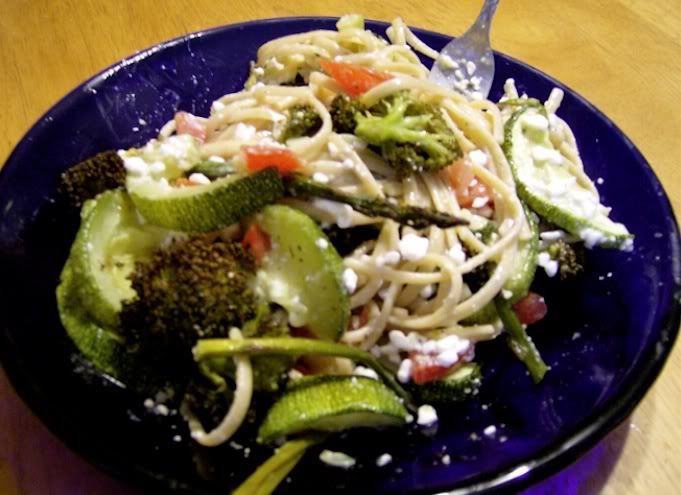 Whole-wheat linguine topped with the aforementioned roasted veggies, fresh diced tomato and, wait for it, cottage cheese (mixed with grated parmesan, Italian seasoning, garlic powder, salt & pepper).
Definitely one of the more random dishes I've slapped together, but I found it to taste quite good. I often replace ricotta with cottage cheese, so my idea wasn't
totally
insane. Plenty of protein, fiber, complex carbs and vitamins, so from a healthy point of view, I think I hit all of those nails on the head. Hooray for leftovers for lunch!
Hope everyone is having a great week.