Today is going to drag, I know it. But, I have Monday off, so no real complaints. Moving right along to food: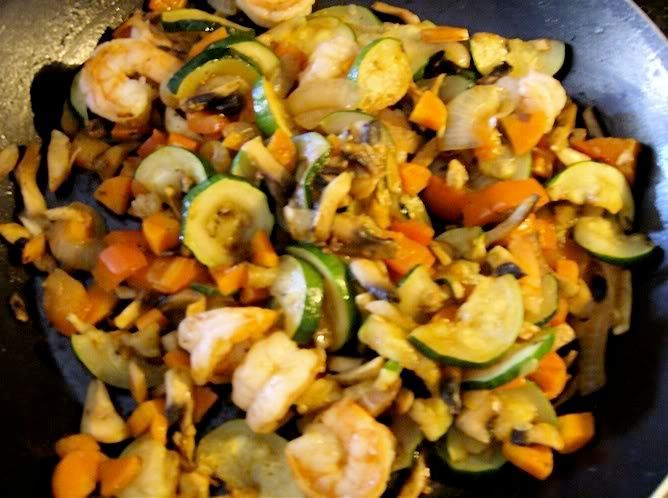 Threw together a quick veggie & shrimp stir fry. In the mix:
zucchini
carrot
red bell pepper
onion
minced garlic
minced ginger
mushrooms
salt/pepper
drizzle of Famous Dave's Sweet 'n' Zesty BBQ sauce
splash of teriyaki sauce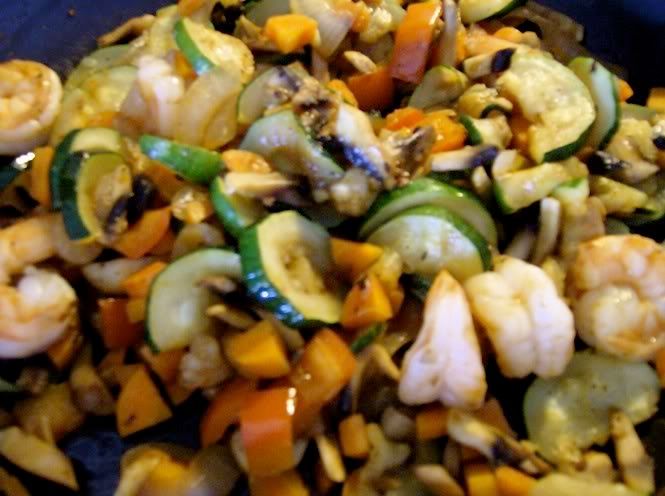 The BBQ sauce was a great addition; it brought out the sweetness of the carrot, bell pepper and shrimp.
Since I didn't want to wait for rice to cook, I figured it was a good opportunity to finally try the
Savory Oats recipe
I came across a few days ago on
Cheap Healthy Good
.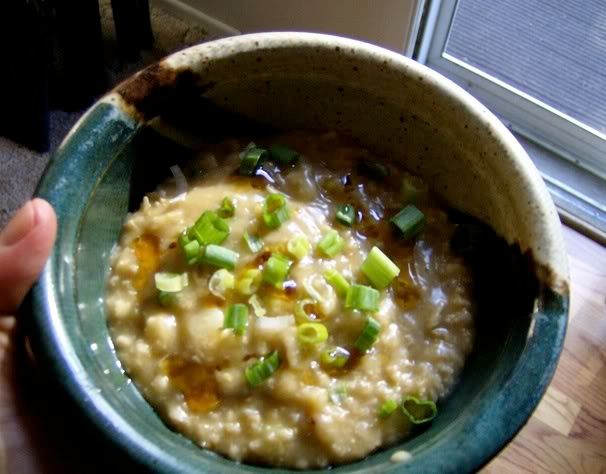 Not bad! I have to admit though, even after using soy sauce, I still found myself sprinkling on a little bit more salt because the flavor just seemed off. This is definitely a dish that I want to experiment with more in the future. I'm thinking a version with garlic, ginger and teriyaki might turn out better. It's so much faster (and more fool-proof) than rice or noodles, so I'd like to keep it in rotation.
As for fitness, I've been mixing things up and went back to an old favorite site of mine,
Gym Junkies
, for some inspiration. I pulled up a
basic beginner's weight lifting program
and went from there. Since I'm not quite a beginner anymore, I did add weights to all of the moves immediately. Oh, man. I was feeling it pretty bad this week. I even ended up skipping Zumba yesterday because the soreness was just a bit too much. I'm feeling good though. Hard to complain when my butt's getting tighter and my arms are more defined! I do need to get a pull up bar soon though. It's been on my list for over a year now because I keep finding routines that require pull ups and it's hard to find a suitable substitute. Luckily, there are a few different models out there and none of them are too expensive, so we'll see.
On the off-days of that program, I've been doing 2-3 mile runs with either sprints or incline intervals. Spin class tomorrow, and probably Monday too, since I have the day off.
That's about it. Tomorrow will be busy with spin, house cleaning and a party at my cousin's house. Then on Sunday, we're having a get together at our place. So glad I have Monday to relax and recuperate. Hope everyone enjoys the weekend!