It became evident to me this week that my running has taken the backseat for far too long now. How did I know? Because I felt like this during my 3 mile run yesterday: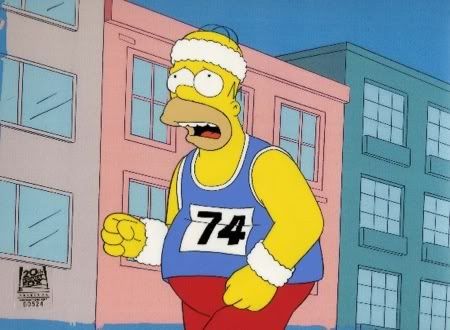 I haven't been running much at all the past couple of months and when I do, my attempts have been no more than 1-2 miles at a time, usually as a warm-up to another activity. That's better than nothing I suppose, but last year, I could bust out 4 or 5 miles at a time without feeling like I wanted to pass out and lie on the floor indefinitely (which is more or less what I ended up doing yesterday, post-3 miles).
It got me thinking about how I
ran 10K on my birthday
in March and how well I did at my
first 5K race
in April. Since then, my speed and endurance have gone to crap (by my own personal standards), but I'm ready to get back in the game.
I found an
8-week 10K training plan
that looks like it'll guide me at just the right pace. I also found a
13-week plan
, but I think the 8-week version is a better fit for me and my current fitness routine. I changed the start of the week to Sunday, making my rest day Thursday. I already tend to rest on Thursdays anyway and I figured it was best to make slight customizations where necessary, so I'm more likely to follow through and meet my goal.
Initially, my goal is primarily distance. Yes, down the road, I'd love to get back to running miles in the 9-minute range, but I've noticed that getting too caught up in speed sometimes sabotages my efforts and I give up all together. When I think back to the days when I first started running, distance always led to better speed eventually.
I don't have any specific plans for my cross-training; I'll just do whatever I feel like at the moment. Today, I did the Biggest Loser
Last Chance Workout
for a good mix of cardio and strength. I also foresee more
Jari Love
DVDs in the future as well, especially since I broke down and bought a
55 lbs. aerobic weight set
:
I don't see myself going to the late-evening
BodyPump
class any time soon (even though I loved the preview class), but I've found that some of my Jari Love DVDs are the next best thing (particularly,
Slim & Lean
). She also uses this type of barbell, so it's perfect for taking my strength training to a new level.
Originally, I ordered the set on Friday and canceled it just a few minutes later, thinking I should wait. But after working out over the weekend, I found that my current variety of dumbbell weights are becoming easier to use. And my standard barbell set is too large, heavy and bulky for high-rep workouts, so yesterday, I went back to the site and re-ordered the 55 lbs set. It's a damn good price with cheap shipping and I'll obviously get a lot of use out of it, so no buyer's remorse for me. It's supposed to be delivered on Thursday, just in time for my weekend cross training! Pretty excited to do BodyPump-esque workouts in my living room. I also came across a couple of other Jari Love DVDs on Amazon where people said they make good BP alternatives, so I added them to my wish list. Hope to buy them both over the next few months. My wage decrease goes into effect this month, so I gotta be extra careful with my spending these days!