This week, the wonderful people at
POM
were generous enough to send me some samples of their juice to try. I had only tried their iced teas before, but not the actual juice, so I was pretty excited when the package arrived yesterday! I'm not a huge juice drinker, but still enjoyed the flavor and became eager to experiment with some recipes. The result?
POM Cake!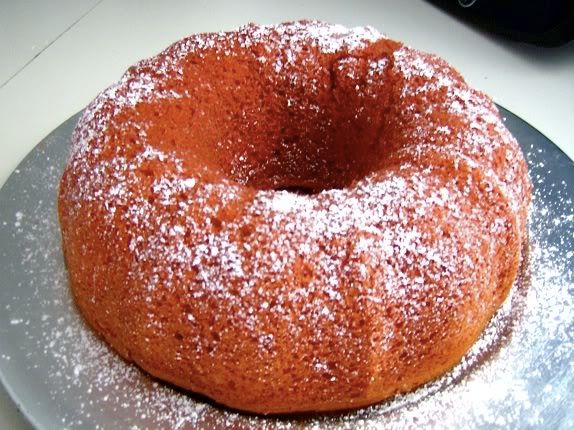 Pretty easy to make and full of great flavor. For the cake, I used:
1 box white cake mix
1 cup POM juice
1/3 cup water
1/4 cup no-sugar-added applesauce (in place of oil)
3 egg whites
2 TB flour (for those at high altitude)
several drops of red food coloring (optional; just for fun)
powdered sugar (optional; mostly for aesthetics)
Mix all of the ingredients in a bowl with a hand mixer and bake according to the directions on the box. The platter decided to slip out as I was flipping the cake over, so I ended up with a crack in one side. Boo! I hate it when stuff like that happens. Oh well.
I also made a
POM-orange glaze
to drizzle on top:
For the glaze:
about 1 3/4 cup POM juice
zest and juice from one orange
2 tsp honey
I simmered the juices and the zest and constantly whisked them for almost 30 minutes. During the last 5 minutes of cooking, I added the honey. After I reduced the liquids, I ended up with about 3/4 cup of glaze. I didn't pour it over the entire cake because I didn't want it to get soggy, so I stored it on the side, to pour on individual slices. If you're planning on serving the entire cake all at once though, go ahead and pour all of the glaze on.
Pretty much one of the best cakes I've ever made! I may/may not have had two slices back to back. I think next time I attempt this, I'll just replace all of the water with juice. It didn't seem to affect the texture of the cake and you can't go wrong with extra POM flavor! Between the cake baking and the juices reducing, our house smelled of cakey-orangey-pomegranate-y goodness. So, so good.
Later this evening, I plan on trying some POM cocktails! My mom brought me back a small bottle of champagne from her trip to California, so I'm pretty sure POM-pagne is in my future. Great way to kick off the weekend, eh?