It's been several days since my last post, but I've returned. And since I was singing this song the other night and Doug had no idea what/who I was talking about, here ya go:
Still a pretty smooth jam after all these years, no? Anywho. I'll start with some quick food re-caps:
This morning's breakfast: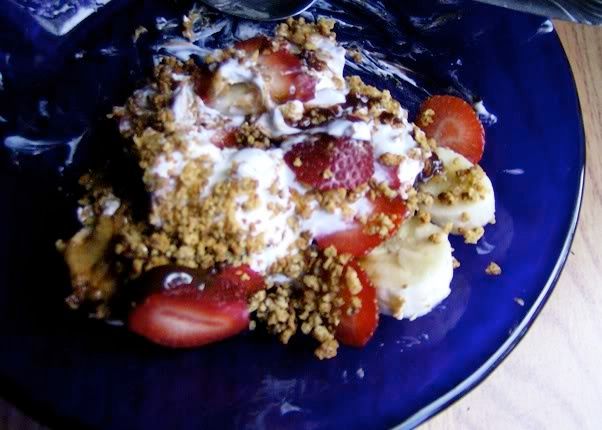 Breakfast Banana Split
, adapted from the
Biggest Loser Family Cookbook
. I didn't actually "split" the banana, I just diced it up. Added diced strawberries, Oikos plain yogurt (sweetened with just a tad of Splenda), about 1/3 cup Grape Nuts cereal, drizzle of light Hershey's chocolate syrup and a dab of almond butter.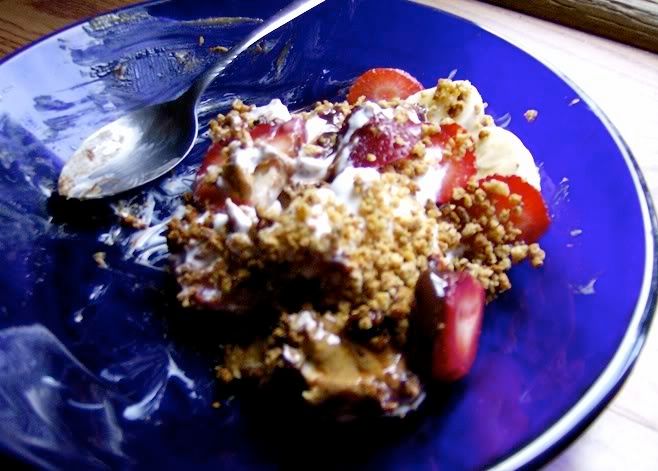 This was ridiculously good. It really was like having a banana split for breakfast (der!). And of course, filling. The original recipe didn't call for Greek yogurt or almond butter, but they're obviously better sources of protein and healthy fat, both of which I needed after my workout this morning. Picking up more strawberries from the store soon so I can repeat this again later in the week.
Another great breakfast discovery (not pictured):
Lemon Oatmeal!
Also an idea I picked up from the BL Family Cookbook. It's pretty simple, really... Just add lemon juice and/or lemon zest to taste. I sweetened mine a bit and also added some egg whites and a scoop of vanilla protein powder for extra bulk. The lemon flavor makes the oats taste so clean and light- I love it!
Last night's dinner: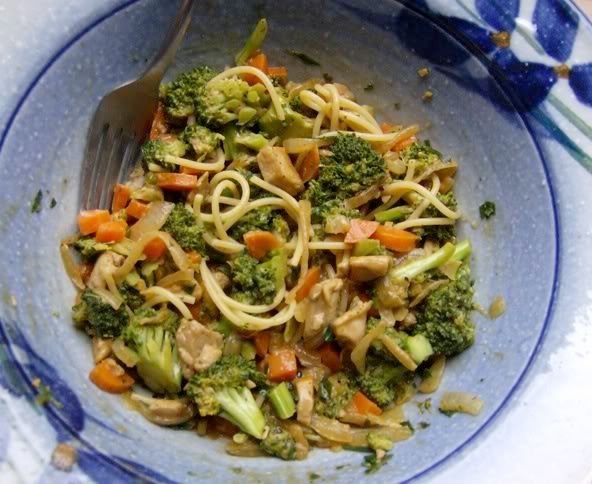 I threw together a chicken-veggie stir fry with peanut butter sauce and served it over spaghetti. In a pan, I cooked up:
diced chicken
onions
minced ginger
minced garlic
broccoli
carrots
salt
pepper
For the sauce:
2 TB creamy peanut butter (you could use crunchy instead)
2 TB Hoisin sauce
about 2 or 3 TB of fresh lime juice
Sriracha to taste (I probably used almost a tablespoon)
about 2 TB fresh chopped cilantro
Whisk ingredients together in a separate bowl. Whisk in water until desired consistency is reached. Once the sauce thinned out, I added it to the stir fry after the meat and veggies were all cooked through.
I was really pleased with this dish! I really am becoming more and more confident in the kitchen with each meal I make. It's a good feeling. I have a much stronger sense of which spices and herbs to use and find myself experimenting more and more, instead of relying on recipes all of the time. I still have a lot to learn, but I've noticed these past few months that something has clicked and I'm a much better cook than I was several years ago.
Last pic I want to share is actually from a while ago (last week? the week before?):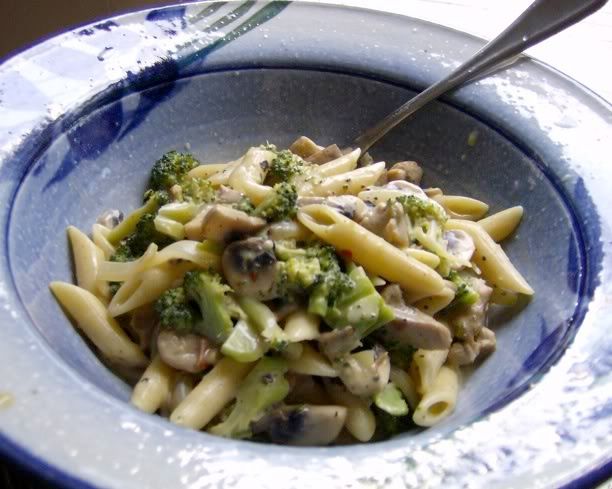 This was an alfredo dish that Doug made. Chicken, broccoli and mushrooms over penne. For the sauce, he used a can of fat-free cream condensed soup; can't remember if it was cream of chicken or cream of mushroom, but either way, it turned out really nice. I can't remember what else he added to the sauce, but if he recalls, perhaps he'll be nice and share in the comments. *Wuh-ink*
Aside from lots of great food, I also finished reading a great book,
The Amazing Adventures of Dietgirl
. Seriously,
read this book now if you haven't already.
I've read my share of autobiographies of women who have struggled being overweight and either lost the weight or didn't, but this book far surpasses all of them. I saw so much of myself in Shauna, it was almost hard to read at times. But she's incredibly funny, witty and driven. Whether or not you're trying to lose weight, this will still prove to be an excellent read.
And lastly, I've re-kindled my affair with
Jari Love
, specifically her first
Get Ripped 1000
DVD. I hadn't used it since I
first tried it back in March
(!!!), but I've been addicted to it for the past 2 weeks, up through this morning. Crazy good workout. The cardio bursts jack my heart rate up and the strength moves make my muscles work
hard
. I always feel like crapping out at about 40 minutes in, but I keep pushing and finish out the last 20 minutes anyway. When I remind myself how I'm knocking out both high-intensity cardio and high-rep resistance training in
one workout
, I manage to push through, even though I just want to lay on the floor and die. I think deep down, it's the hot guy in the back row that keeps me going. Man. Super hot.
Seriously though, Jari Love has become my favorite trainer (sorry, Jillian!). Anyone who can get me to actually
like
strength training is nothing short of a miracle worker. Her workouts always leave me feeling strong and capable. (The physical results aren't too shabby either!) She has a great teaching style and she just seems so darn nice! I know I've talked about her on here before, but I just had to gush once more because I'm really happy I gave her DVDs a try. Totally changed my attitude about fitness.
I suppose that's all for today. Hope everyone has been doing well! Have a great week.