Apparently, it's August already. Yeesh. This summer has flown by, but with the heat lately, that's totally fine by me. I'm over it.
New reads
Although time seems to be passing quickly these days, I still managed to read a new book this week: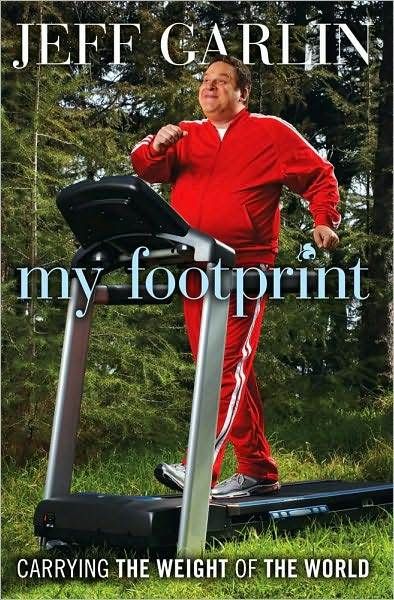 My Footprint: Carrying the Weight of the World, by Jeff Garlin.
I'm a big
Curb Your Enthusiasm
fan, but what really drew me to this book was the fact that Garlin opened up about his eating disorder. I know eating disorders are also prevalent in men, not just women, but I had yet to really read a man's account of what it's like to struggle with a food addiction. And really, after reading this book, the struggle is still the same, regardless of gender.
It wasn't the best written book, but it still tugged at my heart strings occasionally and of course, because he's a comedian, I definitely had my share of chuckles. I also learned a bit about going green too, because the other main theme of book is Garlin's decision to lower his carbon footprint while also tackling his food issues.
It's kind of grueling to read about his binges, lack of support, well-intentioned but misguided "new starts" and seeing the cycle repeat itself. There were so many times I just wanted to hug him, shake him and give him advice because his experience was similar to mine in a lot of ways.
The ending, which I won't give away, was unexpected, but still really inspiring. Because the final message was so full of realism, it really resonated with me. I got my copy from the library and finished in a about a day, so if you're looking for a quick read, you might want to check it out.
10K Training
I'm still plugging along with my
training schedule
. Just finished week 2 this morning.
Running is hard.
Since I've started this program, I must admit, I've yet to have a
good
run. I've got a lot of mental blocks that keep coming up and it's having an effect on my progress. Essentially, I'm comparing my current running self to my old, much faster running self. I keep getting caught up in my speed and think "Shit, I'm going so slow! I was so much faster before! Why can't I go faster?" So instead of just focusing on running and finishing my distance, I'm getting distracted by these types of thoughts. I've wanted to throw in the towel on this training program about 3 or 4 times already, but I need to stick it out. Hopefully once I get into weeks 4 and 5, things will get better.
My days of comparing myself to other people are long gone, but comparing myself to, well,
myself
is just as bad, if not worse. I need to work on that. It took me a long time to build up my speed last year, so I can't expect to get back to that level in a matter of days. I can be quite impatient at times.
Other than that, life is pretty bitchin'. I've been slacking on food pics again, but hopefully I'll find some inspiration this week. I also got yet another Jari Love DVD which I plan on trying tomorrow, so a review of that will follow as well. Hope everyone is enjoying the weekend!