Took the day off from work, primarily to go to an 8:30 am spin class and to bake cake. Yuuup. Priorities. I have 'em.
Spin class was ok... I got a lot of good sprints in, but not a fan of the instructor. She was probably on the bike 50% of the time. Rest of the time, she was walking around. But she played more tolerable music than some of the other instructors, so I cut her some slack.
Came home, showered, ate a big bowl of oats and prepped for the day's next task:
Lemon-Blueberry Pound Cake!
Just in case you forgot where I stand on the whole Cake-vs.-Pie debate... And please note,
this is NOT a healthy recipe!
Plenty of butter and sugar to go around and I didn't make any substitutions. In fact, I added a few things to the
original recipe from Food Network.
I first made the cake on Father's Day for my dad (sans blueberries) because lemon pound cake is one of his favorites. He raved about it so much that I had to make it again (that, and Doug was bummed that he didn't get to try any the first time).
Aside from adding blueberries, the main changes I made were:
adding the zest of an entire lemon
(creamed in with the butter) and
adding an additional 1/4 cup of flour
. I added the extra flour with high-altitude baking in mind, but even if you aren't at high-altitude and still want a lighter/fluffier texture, go ahead and add it.
The lemon zest is crucial!
If you want a distinct lemon flavor in this cake, you really do need to add the zest, even though the original recipe doesn't call for it.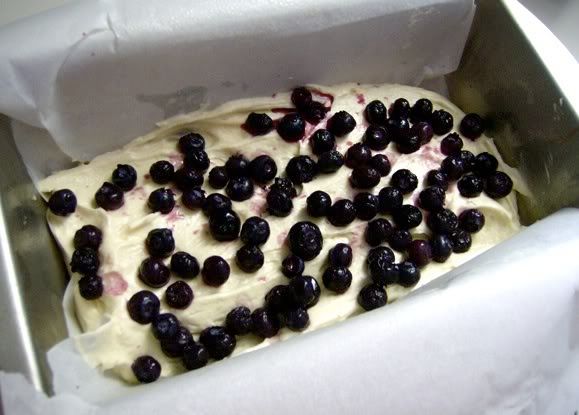 I poured about half of the batter in the pan and added about 2/3 cup of thawed frozen blueberries.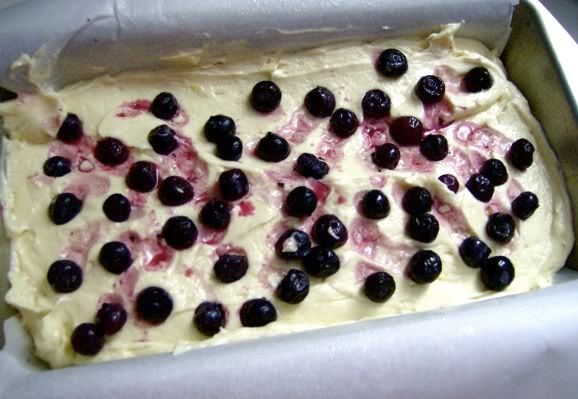 Poured the remaining batter and topped with the rest of the blueberries (somewhere between 1/4 and a 1/3 cup).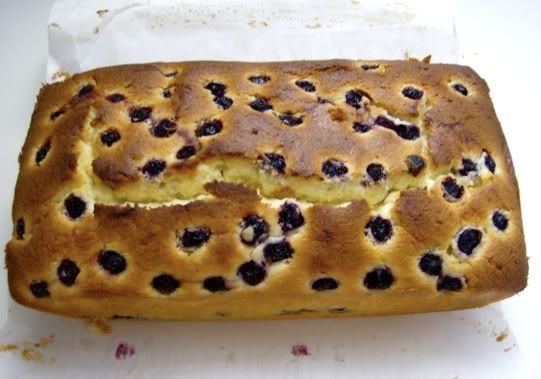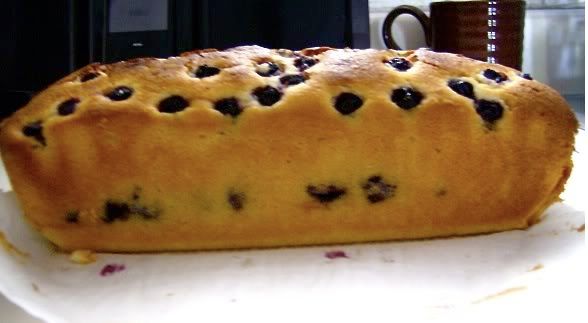 Waiting for this thing to cool before slicing into it was murder. Smelled sooooo good!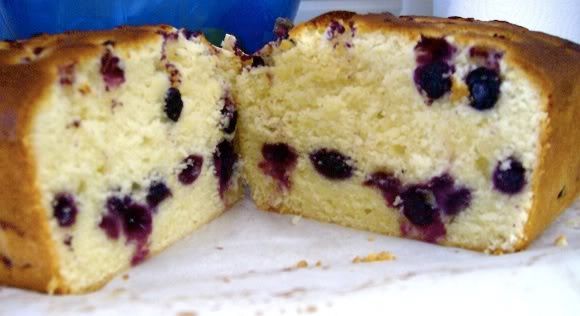 I cut it in half and froze the other half. Also,
I did NOT include the extra glaze on this version.
I did include it when I made my dad's version, but I left it out on this version and I think the cake was just fine on its own.
Delicious. And although I've avoided baking in the past, I'm coming around to it more often these days. I'd rather bake my own treats so I know exactly what's going into the mix and because there's much more effort involved, the final result is that much more satisfying. When I think of the discounted cakes, pastries and doughnuts I always eye at the grocery store bakery (and sometimes buy), they all make me gag now when I look at this cake.
I think bread will be next on my list of baking adventures. The bread selection in most stores doesn't do much for me these days and the good breads at the local/specialty bakeries are too expensive to buy regularly, so I'm going to start making my own. We'll see how it goes!