Earlier this week, I was in a major funk. I found myself feasting on junk, falling out of love with healthy/whole foods and feeling completely indifferent toward exercise.
I just didn't care.
What brought this phase on? I suppose underlying work & financial stress is partially to blame. But I think the bigger reason was some good ol' body hatred. Last week, I noticed more clothing items not fitting. And of course, my immediate reaction was,
"I have failed."
Obviously I haven't failed in the general sense of things, but I'm still failing to love myself and my body, at any size, on a regular basis. Some weeks are easier than others. Some weeks I feel "pleased" with myself because I look slimmer than normal and/or because I've kept up with workouts and healthy eating. But it's still pretty shallow at that point; even if I say "I love myself [right now]!", I know it's not genuine because the thought is only temporary. It's never long before I start dissin' my looks and size.
Oh, healthy body image and self love. We'll be BFFs someday, once I break the habit of criticizing myself in detail and mentally kicking myself to the curb for no good reason.
Anywho. I didn't intend for this post to be a downer, but I did need to capture some of these thoughts instead of beating them down with a shovel, as if they were zombies. Dang- now I want to watch the "Thriller" video, haha.
SO, said funk ran up through Wednesday. Yesterday, I knew I needed to get a grip. I needed some fresh foods. I needed to re-kindle my love of veggies. I went shopping, found lots of goodies, got home and started cookin'.
Into the pan went: black beans, mushrooms & zucchini:
Added some cumin, salt, pepper, garlic & onion powder (forgot to add real chopped onion) and some cilantro.
At the store, I picked up something new to try: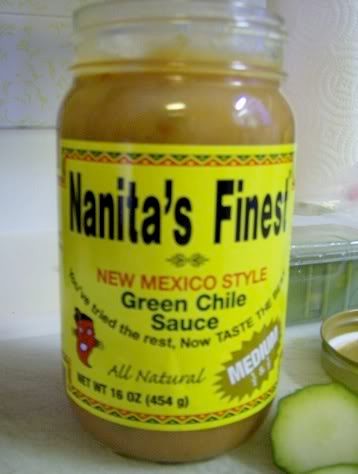 When I see "New Mexico Style" and "Green Chile" on the same label, I gotta give it a shot. I added about 1/4 cup to the beans/veggies. While that simmered, I got a salad started: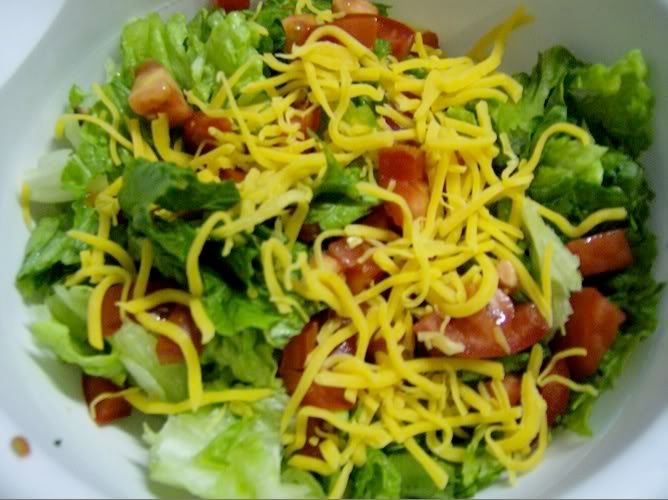 Romaine, tomatoes, cheddar. I also grilled some corn tortillas (can you see where I'm going with this?):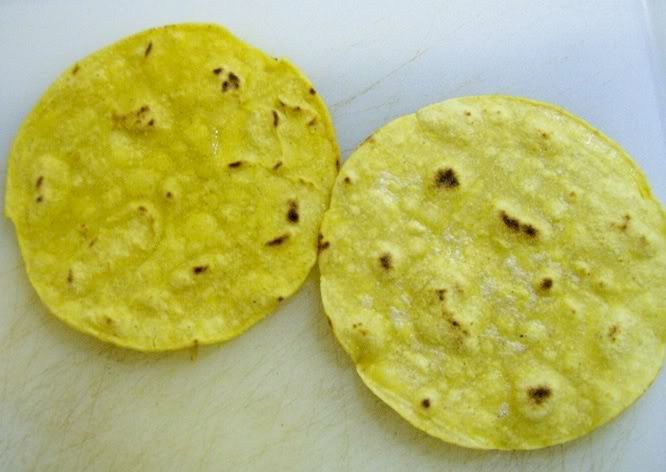 Few steps later, I had myself a black bean taco salad: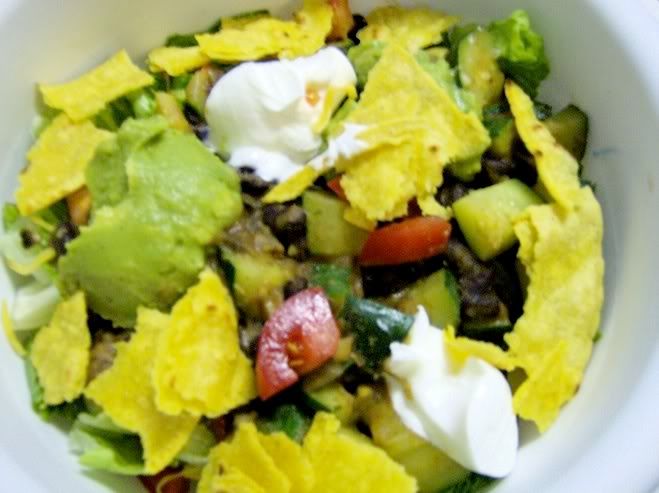 Topped with guac and sour cream.
AHHH! This salad was so dope. And the chile sauce is great- lots of heat, but the flavor of the chiles still comes through. This dish did indeed remind me of the awesomeness that is healthy food.
I avoided the gym all week, but finally went this morning for a quick 30 minute session. Twenty minutes/2 miles of speed intervals on the treadmill and 10 minutes of intervals on the stair master. I didn't feel like working out for very long, so I knew I needed to put on my Big Girl Pants and kick up the intensity. It was tough, but man, I felt amazing afterward (still do!).
Came home, showered, prepped my lunch and then made one of the best
Green Monster
smoothies I've made to date. I haven't had one in over a month, so I'm glad it turned out so good. In the mix:
1/2 cup almond milk
1/4 cup water
1/2 frozen banana
1 scoop Designer Whey Chocolate Deluxe protein powder
1 scoop Amazing Grass Chocolate Superfood
1 tbsp peanut butter
2 huge handfuls fresh spinach
Chocolate peanut buttery goodness! And still holding me over. Love that stuff.
So boys and girls, it would appear that I no longer have the funk (sorry, Parliament). Glad I snapped out of it when I did; a) it's Friday, b) I'm going to New Mexico this weekend for family fun, amazing homemade New Mexican food and hopefully a trip to Trader Joe's and c) I re-discovered one of my all-time favorite songs by one of my all-time favorite bands:
Ah, the feeling of being a 14 year old anglophile, full of angst.
Lastly, I hope to have new book and DVD reviews within the next 1-2 weeks, so stay tuned. And of course, enjoy the weekend!