This afternoon, I decided at the last minute to hit up Zumba after work.
Confession: I haven't been in over a month...
I knew I wanted to do some kind of activity when I got home because I took the morning off and hence, felt sluggish all damn day. I considered yoga... Thought about walking around outside until I remembered the heat... Contemplated fighting the 5 o'clock gym crowd for a treadmill or stair master... Then, I finally said "Fuck it, I'll just go to Zumba." I hesitated though, since my ulcer has been nagging me off and on lately. But I sucked it up, rushed home to change and made my way to class.
Thank you, Ulcer, for playing nice today.
I finished the whole class and left
soaked
. It gets a little embarrassing at times; I've always been a big sweater and today's routine left me drenched. I have a sweat band, but I prefer to look like a complete tool in the comfort of my own living room and not, y'know, in public.
ANYWHO, definitely going to start going again just about every week, if I can. Plus, she teased us with some
NKOTB
next week, so how can I
not
go? Pretty pumped.
Since today's class kicked my ass a little more than expected, I was ready to come home and throw together a good re-fuel meal: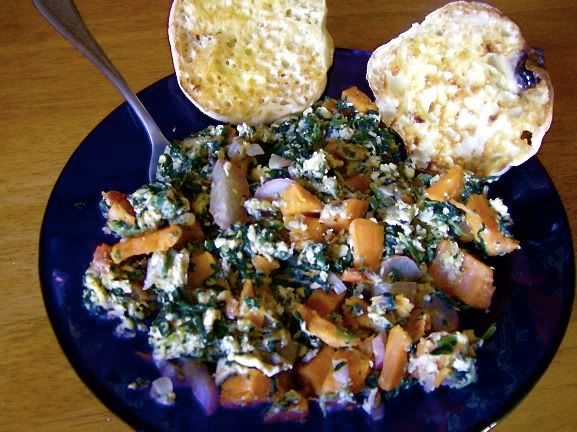 A
sweet-potato veggie scramble
, of sorts, served with a toasted English muffin on the side. I took a pan, heated up about 1 tsp. of olive oil and added the following:
frozen spinach
diced red onion
1 large chopped mushroom
2 radishes, thinly sliced
diced tomato
about 1/2 clove minced garlic
1 chopped sweet potato (pre-cooked in the microwave for 5 minutes)
1 egg
1/4 cup egg substitute (still found another carton hiding in the freezer this week)
grated parmesan
shredded cheddar
salt
pepper
cayenne
parsley
I was trying to finish off some produce and also wanted to break into the sweet potatoes I bought at the farmer's market a couple of weekends ago. Great flavor! And definitely filling.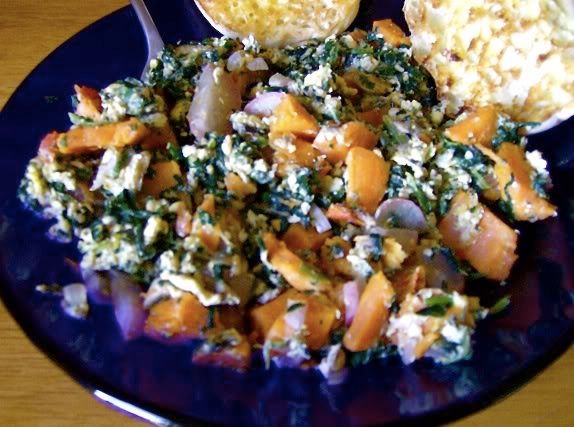 This would've made a bitchin' wrap too. Maybe next time. Good night!