I've been trying to mix up my breakfasts this week and am also on an egg kick again. That said, this was today's morning fuel: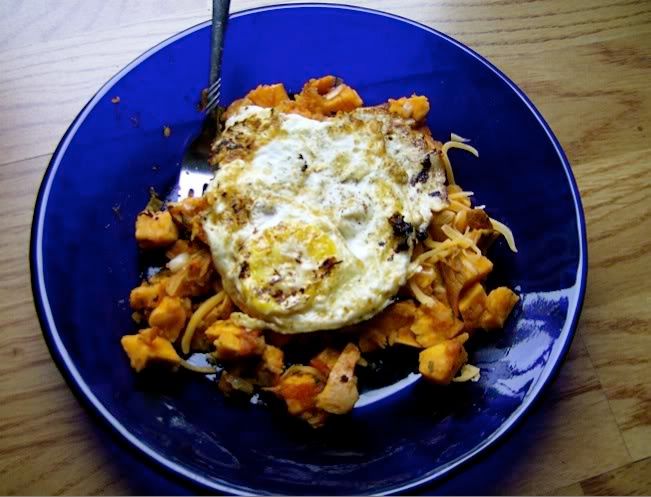 Diced up half of a leftover baked sweet potato, threw in the pan with some fresh salsa, sprinkled with a bit of shredded cheddar and topped with a fried egg.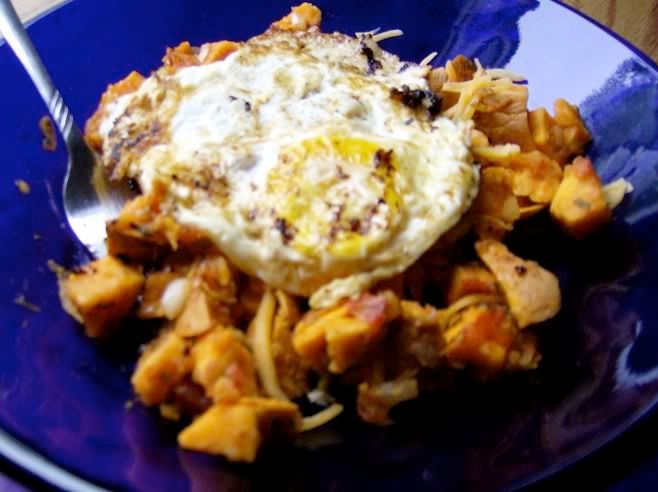 One of the best breakfasts I've had in a while! It was hard to eat this one slowly. The textures. The spice. The subtle sweetness from the potato... Mmm! Need to pick up a few more taters so I can repeat this. I wanted to serve some grilled corn tortillas on the side, but totally spaced it, hence needing to make it again.
Even though this was a great meal, I was still a little hungry afterward, so I finished up the last of some honeydew and topped it with some thawed strawberries: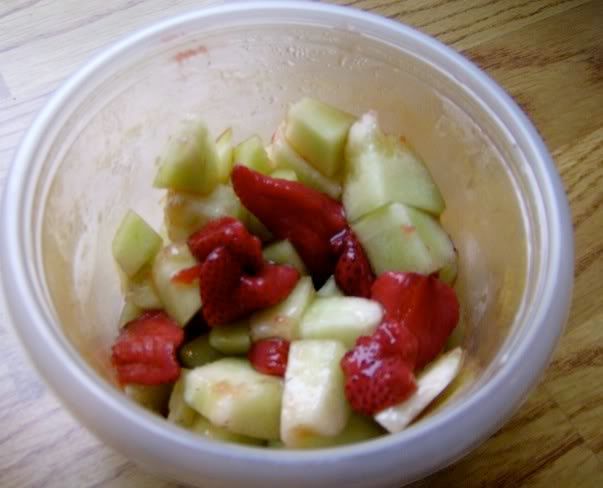 Crisp, cool and sweet. Love.
In fitness news, I did some strength training this morning, á la Jari Love. Despite
my disappointment with her Body Rock DVD
, I still had yet to try the weight & abs portion of the workout, so I decided to give it a shot. This portion really is the better half of the DVD. It's only about 30 minutes too, which I appreciated.
This certainly isn't the best of Jari's strength/resistance workouts, but I still felt like my muscles got worked over pretty good. I liked how she reverted back to some isometric moves, typical of some of her older DVDs, but also included some new [killer] shoulder exercises that I had never done before.
She also had a great deadlift circuit, so I quickly swapped out my weights for heavier ones so I could get more of a challenge. If I had to make a list of my favorite exercises, deadlifts would be pretty high up. It's the perfect move for working your arms, back, abs and hamstrings, all at once.
There were also plenty of weighted squats, bicep curls and chest presses. The abs portion was basically a mix of different crunches, including the bicycle variety. It was pretty much all upper-ab work though; not too much focus on lower abs. Fine with me though; my upper abs need all the help they can get these days.
Glad I gave the rest of this DVD another shot! Gotta love variety. I felt like my overall calorie burn was still lacking though, so I did a one mile run before hitting the shower.
I think tomorrow will be another gym day with a new treadmill program. I also have a workout from Fitness magazine that I saved a month or so ago and still haven't tried yet. Looks like a good strength routine. Might save that for Saturday.
Three-day weekend is almost here! No travel plans, so I'm looking forward to lounging like nobody's business. This week's been tough at times.