Last night for dinner, Doug busted out what was probably some of the best tasting pork I've ever had in my entire life.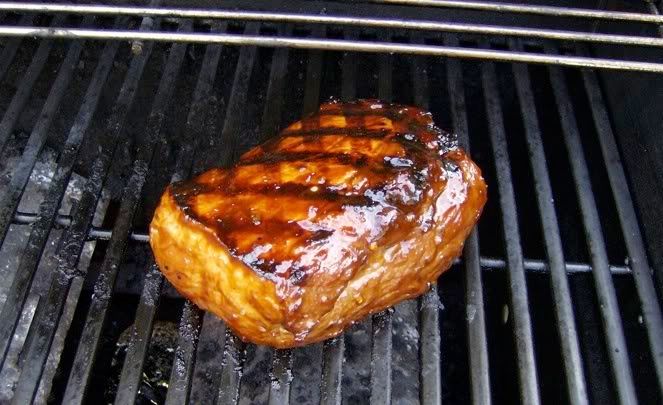 We found a good deal on some boneless pork loin roasts at the store, so Doug threw together a bitchin' marinade which later translated into grilled meat euphoria. For the marinade:
Rough chop some
green onions
and mix with
Trader Joe's Soyaki Sauce
(or, Soy Vay's Veri Veri Teriyaki, which I've seen at Wal-Mart),
Famous Dave's Apricot Bourbon BBQ Sauce, crushed red pepper
and
POM juice
. Now, since this was more of an experiment and not an actual recipe, I can't really provide specific measurements of each ingredient. The roast was about a pound, so use your best judgement and taste preferences when mixing all of this together.
Stab the roast with a few holes, add to marinade and stick in the fridge for
at least 30 minutes
(we let ours sit for about 2 hours). After you remove the meat,
save the excess marinade, strain out the green onions and pour it into a saucepan.
Turn up the heat and
add brown sugar
, a few drops of
Liquid Smoke
and more BBQ sauce and POM juice, if desired. Cook until thickened and set aside.
Before I move on, let's see another shot of that meat: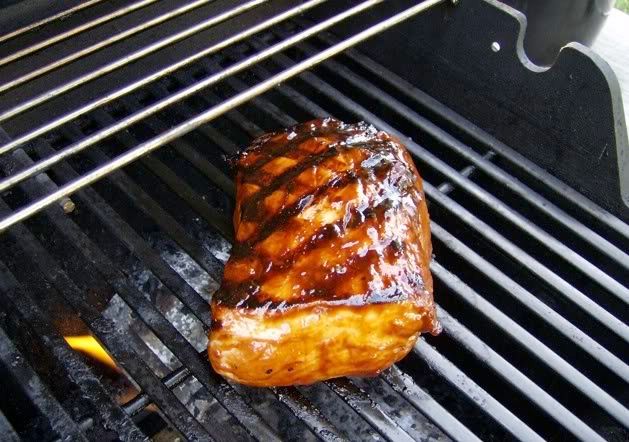 The flame? The grill marks? The SMELL?! Heaven. We ended up having to grill this longer than anticipated, so in hindsight, it would've been better (and faster) to cut the roast into 2 or more pieces. (However you go about it, PLEASE
use a meat thermometer
and aim for an all around internal temperature of at least
160 *F
.) On the upside though, the increased grilling time made for a phenomenal charred crust. Doug also threw some broccoli in some foil, with a bit of olive oil, salt and pepper: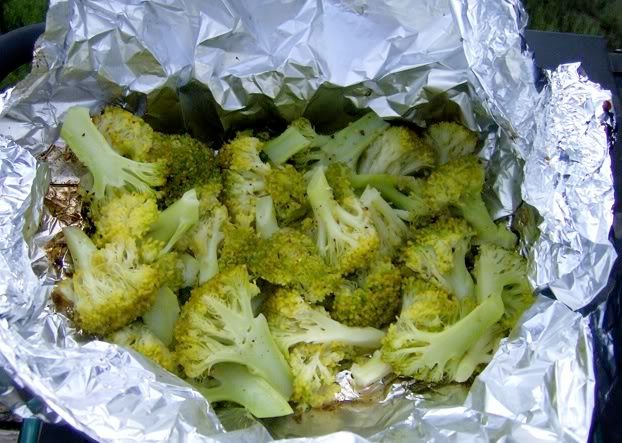 This broccoli had been sitting in the fridge for a while and was on its last leg, hence the lack of green color... Still tasted ok though.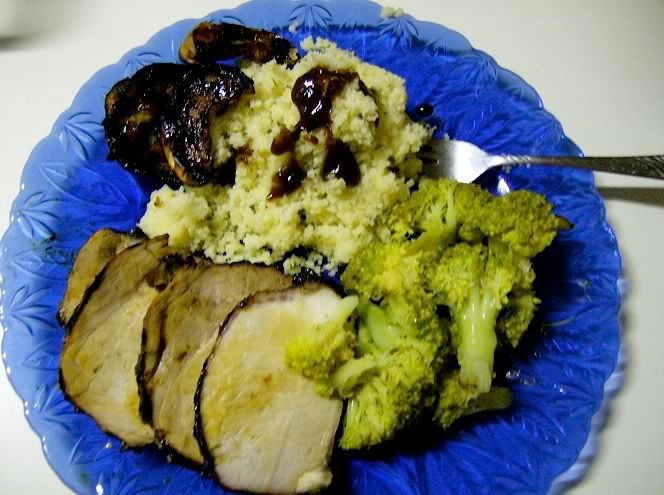 Served together with couscous (seasoned with parsley & kosher salt), grilled apples and the sauce prepared from the marinade.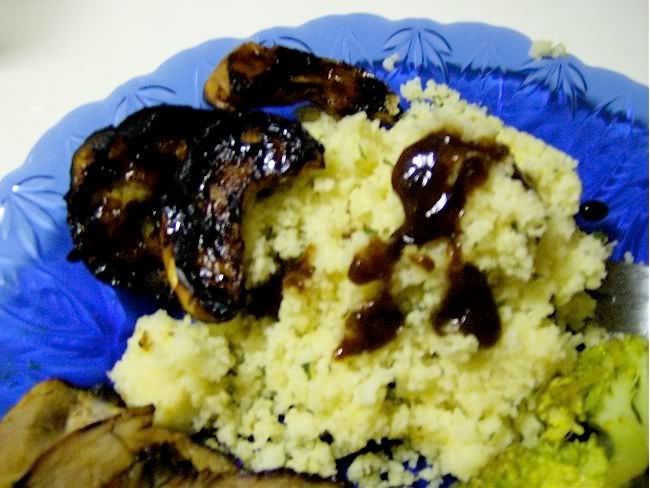 The sauce was so delicious that I had to add a bit more to my couscous. Those little charred bits are the apples, also brushed a bit with that Awesome Sauce. And one last time, for me, that pork: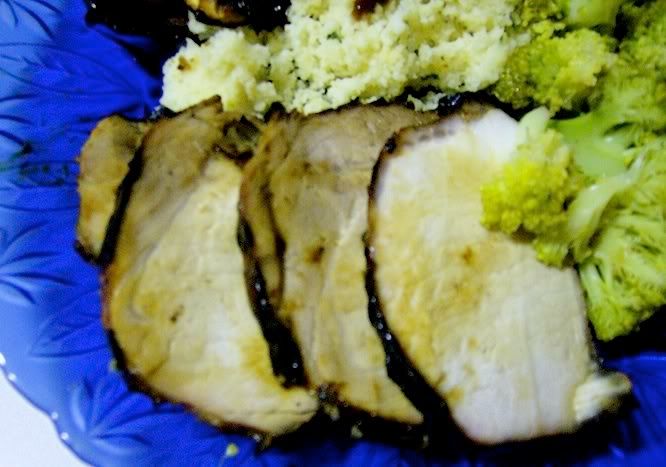 Honestly, the two of us barely said a word during this meal because we were stunned and enamored with this pork. I'm going to go out on a limb and say that it was almost as good as sex. I tried to eat slowly, but the mix of flavors from the marinade and the texture of the pork (crisp, sweet, charred crust; tender, moist, juicy, flavorful interior) just kept hitting a pleasure center in my brain and I quickly became addicted. The broccoli, couscous and apples were merely supporting acts. The pork was the headliner.
In closing, I love meat, I love my grill-master boyfriend and I REALLY love when my boyfriend grills amazing meat. Definitely a meal to remember, but also to repeat in the near future. Love.