Another week, another food obsession. This week?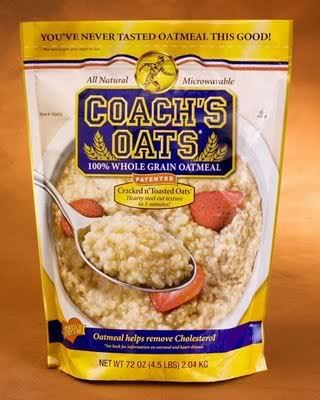 Coach's Oats!
I've been seeing this product in stores lately and grew curious. I visited the product website to read a little bit more info and was definitely intrigued, but still not completely sold that this oatmeal could be that much better than my regular ol' Quaker Oats. This week, I had the chance to try some samples and put my curiosity to rest. The verdict?
Love it!
I gotta admit, it's gonna be hard to finish off my supply of Quaker Oats because the texture and flavor of Coach's Oats is soooo much better! It has a nuttier flavor and texture that lies somewhere between steel cut oats, regular rolled oats and just a really good, hearty whole grain cereal. I added peanut butter and banana to my bowl this morning and it was just great. And the upside? They don't take any longer to cook than my regular rolled oats. Bonus!
I've seen this product in bulk at Costco, so next time we shop there, I'm definitely stocking up. I'm excited to try baking with Coach's too.
Aside from kick-butt oatmeal, I've also been kicking my own butt (mentally, for the most part) regarding my running funk. I
still
haven't thrown in the towel on my 10K training yet, though I came pretty close earlier this week. I tried running some hill intervals the other day and I definitely enjoyed it more than I thought I would. After running hills, I felt like an unstoppable beast and went on to cover 100 floors of stairs on the stair master (new personal record!). That workout gave me a good boost, so on with the show. And as usual, I've still been cross-training with some Jari Love DVDs as well.
Tomorrow, I'm scheduled for a 4 mile run. I must admit, I'm still not
completely
stoked about it, but at the same time, I feel like my training this week will [hopefully] improve my performance. We'll see how it goes.
On a more random, unrelated note: Cherry-flavored vodka or rum + Coke Zero makes me a happy girl. Hooray for Friday!