Since my half-assed "visual" post a couple of days ago, I decided it was time to redeem myself and post some proper food pics. I figured tonight's dinner was worth sharing: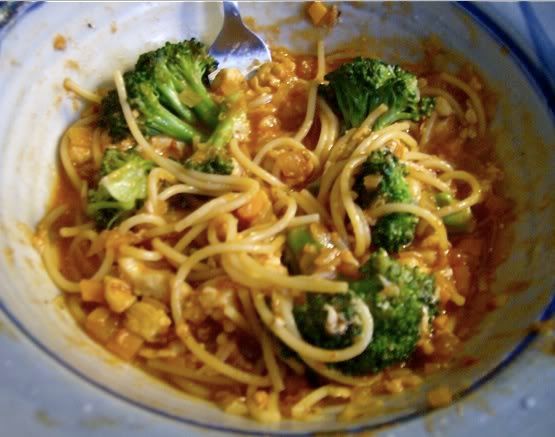 BBQ Chicken Pasta with Broccoli!
Since I had kind of a long, rough day, my man took over dinner. We had been talking about playing around with a BBQ pasta dish and tonight it finally came to life. For the sauce:
Diced chicken
carrots
onion
minced garlic
oregano
red pepper flakes
salt & pepper
small can of tomato sauce
Famous Dave's Rich & Zesty BBQ sauce
splash of Famous Dave's Devil's Spit, for extra heat
After all of the above were simmering, Doug dropped some Ronzoni Smart Taste thin spaghetti and I chopped up/steamed some fresh broccoli.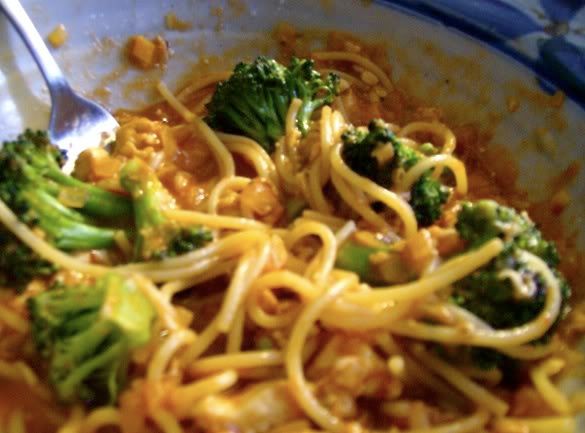 Although you can't see it, I also threw in some Cabot reduced fat cheddar to melt in with everything.
This. Was. So. GOOD! Nice & spicy and ridiculously filling; the bottom of the bowl took forever to get to, but that was probably my favorite part. BBQ sauce and pasta. Do it, if you haven't already.
On the side, I mixed a quick cocktail: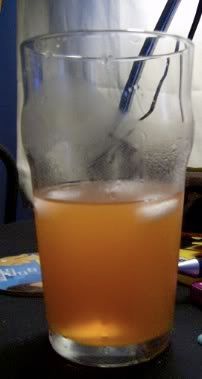 A shot of Bacardi Limon and some sugar-free Strawberry/Banana/Orange drink mix. Light, sweet, refreshing and just enough to take the edge off.
Later, I plan on knocking out this bad boy: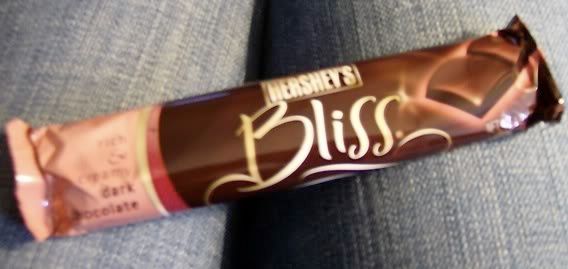 Hershey Bliss Dark Chocolate bar. I usually don't care for Hershey's chocolate, but I've been catching this particular variety on sale lately and it's actually really good.
So that was Friday night dinner. As always, Doug's cooking totally hit the spot and put me in a happy place.
May/may not go to 24 S.E.T. class tomorrow morning. Since I've missed the past two weeks (practice 5K run, actual 5K race), I'm having a hard time getting motivated to go back. But I did fall short on strength training this week, so I should probably suck it up and go. We'll see. 'Night ladies & gents- have a great weekend!