While [still] waiting for Doug to get out of bed and [hopefully] follow up on his hiking suggestion from last night, I decided to get going with some coffee and experiment with a filling, balanced breakfast to pump me up and hold me over during our excursion. The result? A
Pumped Up Pumpkin Pancake
.
I used:
1/4 cup old fashioned oats
1 tsp. all purpose flour
1 tbsp. granulated splenda
1/4 tsp. baking powder
1/4 cup egg substitute
2 tbsp. canned pumpkin
2 tbsp. no-sugar-added applesauce
4 pecan halves, chopped
small splash of vanilla extract
cinnamon to taste
toppings:
1/2 small banana, cut into slices
1/2 tbsp. whipped peanut butter (by Peter Pan)
2 tbsp. sugar-free maple syrup (by Maple Grove Farms)
Directions:
Combine all ingredients (except peanut butter, banana and syrup) in a bowl. Pour batter onto a hot skillet/griddle sprayed with non-stick cooking spray. Flip as you would when preparing regular pancakes. When pancake is done, spread on the peanut butter, top with banana slices and drizzle with syrup.
Ta-da!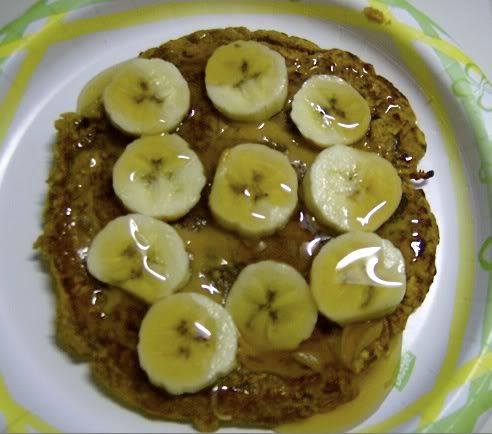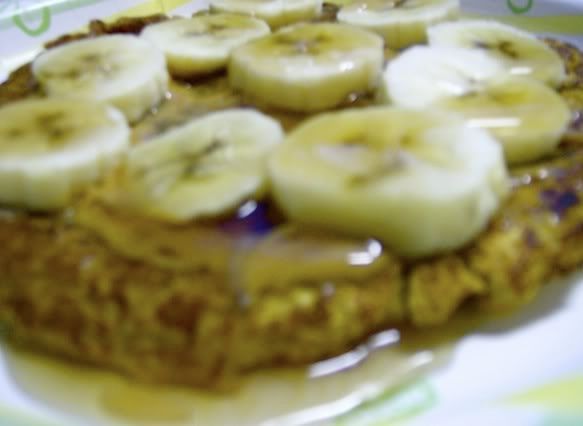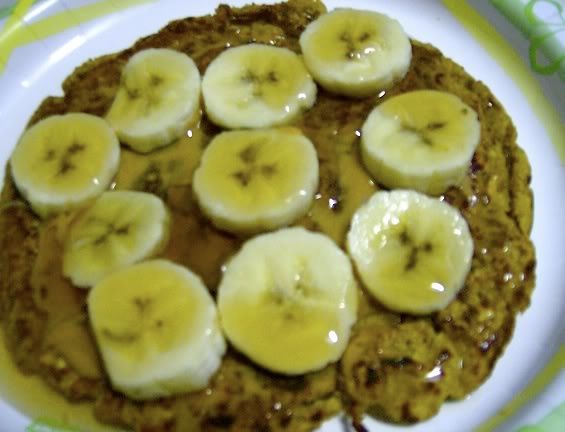 And the nutritional stats (including toppings):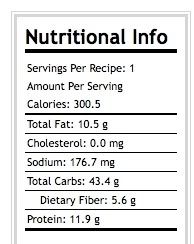 This was a great breakfast EXCEPT for the damn egg substitute I used (the Kirkland brand from Costco). I should've known better; every time I try to use this brand in a sweet recipe, it leaves a weird aftertaste. It tastes perfectly fine when I use it with savory ingredients, but that's about it. I should've used egg whites, but I only have a little bit left and am saving them for a different recipe later today. Oh well. Lesson learned!
Definitely filling, with a good mix of fiber, protein and fat. And hey, who doesn't like one giant pancake all to themselves?!
Well, that's all for now. I shall continue to wait for Doug to get his ass outta bed. My early bird self was awake at 6, so I am indeed getting impatient, seeing as it's going on 9... *Shakes fist in the air* Young, lazy whipper-snappers! After the coffee and that pancake, mama's ready to do some hikin'! Enjoy your Sunday, kids.