Quick note: This post has pics!
Side note:
they're not very good.
But that's no surprise, right? Right. But before we get to pics, let's talk some fitness first...
So I'm totally bailing on the Biggest Loser Boot Camp workout at 24 Hour Fitness today. Mostly because I didn't feel like waiting around until 10 am to workout. I also wasn't feeling the idea of 24 S.E.T. at 9 am either, so I decided to do a practice run of the
Bash the Bluffs 5K race
that I'm participating in next weekend. I wanted to do an early outdoor run and figured doing a loop on campus would be the best option. Of course, it had to be 35 degrees and windy as hell, but I stuck it out, runny nose, watery eyes, cold hands and all. This is why I can't be a dedicated outdoor runner year-round; I'm such a wuss when it comes to less-than-desirable weather conditions. And I'm too cheap to buy the proper outdoor gear. Buh.
Even though it sucked running directly against huge gusts on inclines and not being able to see, I'm glad I suffered through it because now there won't be any surprises at the actual race. Do I want to run in those conditions again? Hell no. But am I better prepared in case I have to? Sure, why not.
Here's my plan for the next few days:
Some strength training at home, á la Jari Love tomorrow morning.
Some sprint intervals at the gym on Monday.
24 Cycle on Tuesday (got me some super comfy padded cycling shorts yesterday! They were 29.99 at the actual store here in town, plus I snagged a 25% off coupon for a grand total of $24.15. Super-sweet deal!)
Possible 2-3 mile run on Wednesday? Strength training? Rest Day? Not sure yet.
2-3 mile run Thursday morning, Zumba in the evening.
Strength training on Friday?
Race on Saturday.
This is my first time actively training for an official event, so I'm trying to use my amateur fitness knowledge to my advantage. While I want to keep up with my running most days, I also know that strength training improves my endurance during runs, so I need to make time for that as well.
ANYWHO. After this morning's run, I had one thing on my mind for breakfast:
Fiesta Flapjacks
.(Served with extra bean mixture on the side.)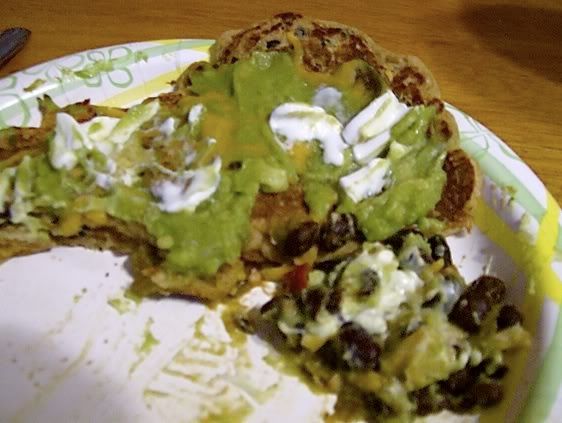 This time around, I sprinkled on some fat-free cheddar and slathered on some Dancing Iguana Guacamole, in addition to some light sour cream. I made my own salsa to mix with the beans as well. Just a basic mix of fresh tomatoes, onions, minced garlic, diced jalepeños, cayenne, cumin (for the beans), salt, pepper and cilantro. I got heavy-handed with the cayenne and jalepeños though. Man, it was spicy. But still delicious of course.
I actually made these for dinner Thursday night but had plenty of the bean mix leftover, so I figured a filling, spicy breakfast was in order. When you add guacamole and cheese to this dish, it pretty much feels/tastes like eating at a Mexican restaurant, minus all of the extra grease. I was in heaven. If it wasn't before noon, I might have even considered a margarita on the side instead of iced coffee.
And now, a recap of last night's dinner. These pics are especially bad, but please believe me when I say this was one of the best at-home burgers I've ever had: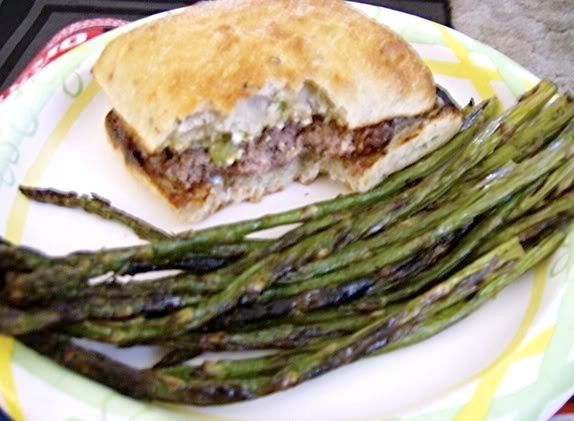 BBQ Bleu Cheese burgers with asparagus "fries" on the side.
Doug grilled some 93/7 patties, brushed them with some Famous Dave's Rich & Sassy BBQ sauce and topped them with some reduced-fat bleu cheese crumbles. We served them on some bleu-cheese foccacia rolls (toasted on the grill), spreading one side with light mayo and the other side with guacamole. Oh. My. God. As Guy Fieri would say, we totally caught the bus to Flavor Town.
The only things that were missing were some grilled onions and some tomato slices. But hey, guess what? We have leftovers, so perfection is on the way tonight! We were basically trying to do our version of
Red Robin's Bleu Ribbon Burger
and while not quite identical in terms of ingredients, it was still hands down the best burger I've had cooked at home. Doug is an amazing grill master. (Ignore the review of RR's burger on that blog. Or don't. I just happen to love RR's burgers and am of the opinion that the person who wrote that post doesn't know what they're talking about. So there.)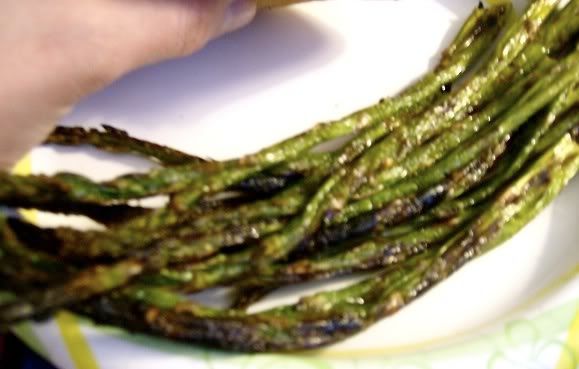 Another shot of the asparagus. Tossed in a simple mix of olive oil, kosher salt and cracked black pepper. Grilled to a delicious crisp and drizzled with lemon juice.
I LOVE FOOD! Off to run some errands. Hope everyone enjoys the weekend!