First off, my lunch was awesome. Spaghetti squash apparently makes an excellent salad topper. Who knew? Man, I love that stuff.
I came home from work as soon as I could, with visions of wine and lemon cake in my head. I bought the cake slices yesterday from the discount bakery rack at the grocery store. Well, I came home and they were no where to be found. Then I remembered that I told Doug that I wasn't sure why I bought them and that he could help himself. And he totally did. To both slices.
So, discouraged and still in the mood for some sweet baked goods, I remembered the
Pumped-up Pumpkin Cookies
recipe that I printed off earlier this week from
Carrots 'N' Cake
. The recipe was easy enough, so I gave it a shot: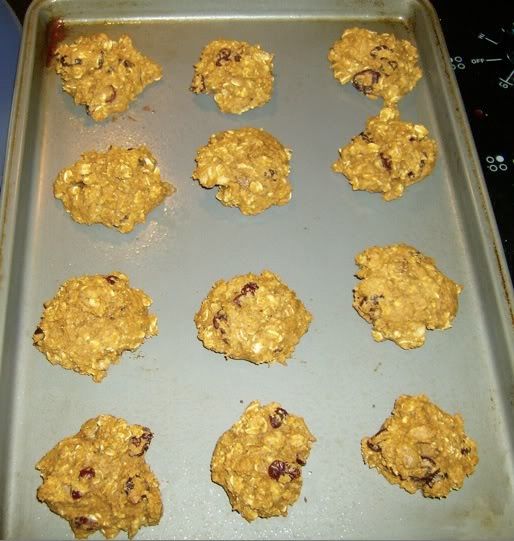 I had two: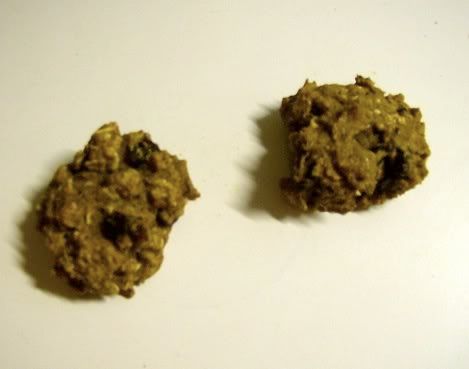 Changes I made: ground flax instead of chia seeds; dried cranberries instead of raisins; unsweetened vanilla almond breeze instead of hemp milk.
Yuuuum! And, I must admit... I'm kinda glad the cake was gone. I'm sure it had plenty of fat and sugar that I didn't need and eating your own homemade treats is, for the most part, more satisfying (and usually healthier, too). And unlike me, Doug doesn't gain 2 pounds overnight by eating cake, so it's all good.
For dinner, I stuck to my plan of trying
KERF's
Fiesta Flapjacks
: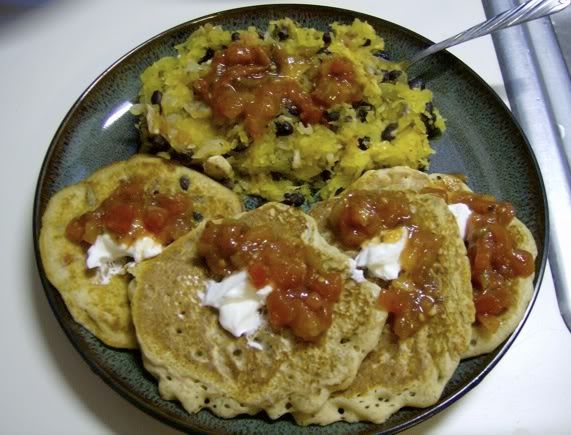 (Yes, it was a lot of food, so I ended up eating only half of everything.)
Close-up, with salsa and light sour cream: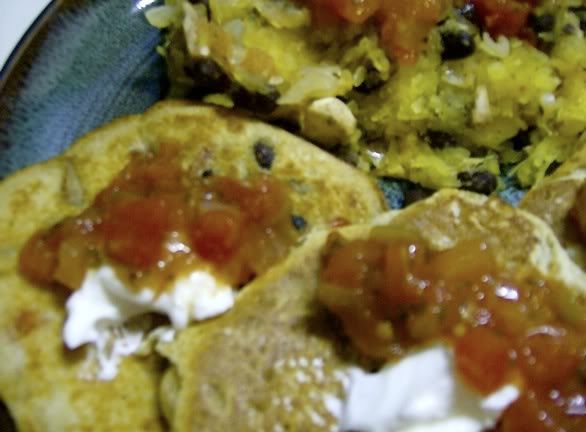 As for what I mixed with the batter: black beans & sauteéd veggies (mushrooms, onions, tomatoes). I seasoned the beans & veggies with salt, pepper, garlic powder, cumin, cilantro and a dash of cayenne.
On the side, I took more leftover spaghetti squash, mixed in the remaining beans & veggies, stirred in a 1/4 cup of fat-free shredded cheddar and topped with salsa.
Such a unique, awesome meal! So many different textures and flavors. The sweetness from the squash really complemented the slight sweetness of the pancake batter too. I was quite pleased.
And now with the leftovers, tomorrow's breakfast is ready to go! Easy-peasy. The pancakes will probably get a lottle soggy overnight, but oh well.
Still nursing my wine: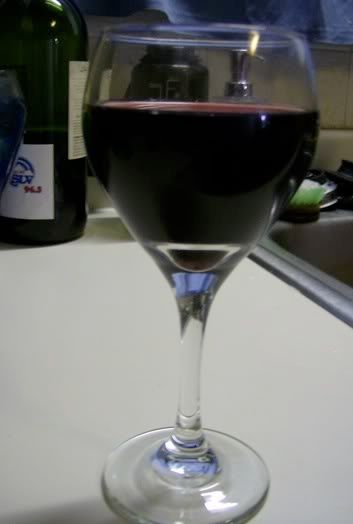 Excellent dinner and treats to end the day. Time to plop my booty on the couch and tune into NBC for some laughs. G'night!