So yesterday, we decided we would have our Valentine's Day dinner celebration. I dunno. Saturdays just make better date nights than Sunday. Plus, we wanted to enjoy our wine without worrying about any work/school-related commitments in the morning ;)
I had a coupon to
Einstein Brothers Bagels
, so on my way to the gym, I picked up a few for breakfast, including their limited special, chocolate-chocolate chip: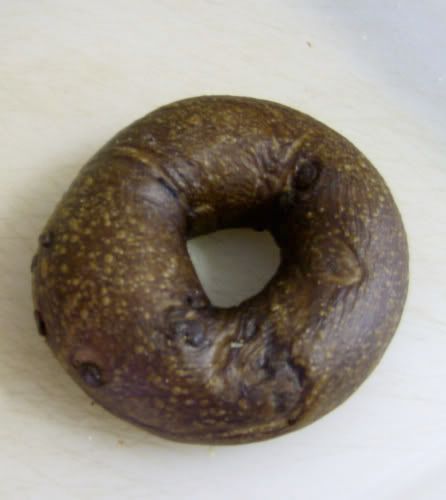 Had mine with a bit of sweetened fat-free cottage cheese for extra protein: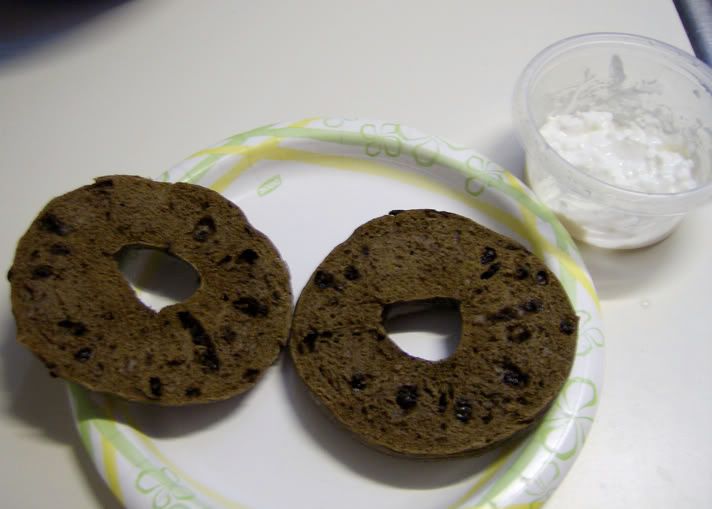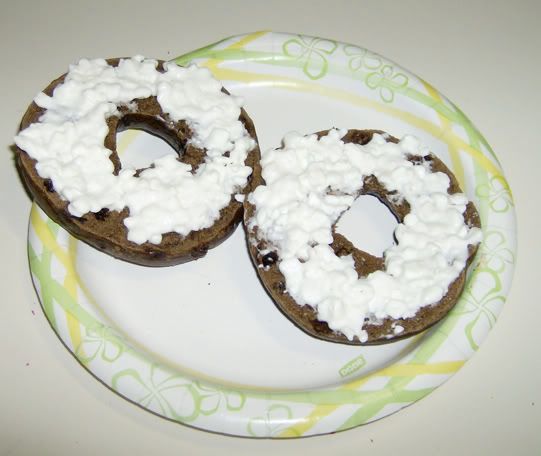 Yum! I'm partial to savory bagel flavors, but I'm also not one to pass up chocolate dough with chocolate chips baked in. Mmmm.
Also had a pear: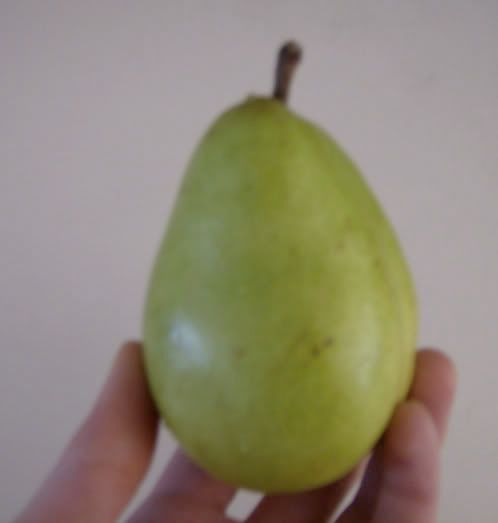 Not pictured is lunch... I did sprint intervals at the gym, which left me starving the first half of the day. I had a bowl of oats AND a turkey/cheese/bell pepper wrap with fat-free pringles.
Then, it was on to dinner. Doug prepared it all; I merely sliced the sourdough french bread (not pictured) and poured the wine. The original plan was to cook the meat and asparagus on the grill, but we were low on propane. Despite having to utilize the stove top and oven instead, everything still turned out great! On the menu: NY strip steaks with roasted asparagus and red potatoes: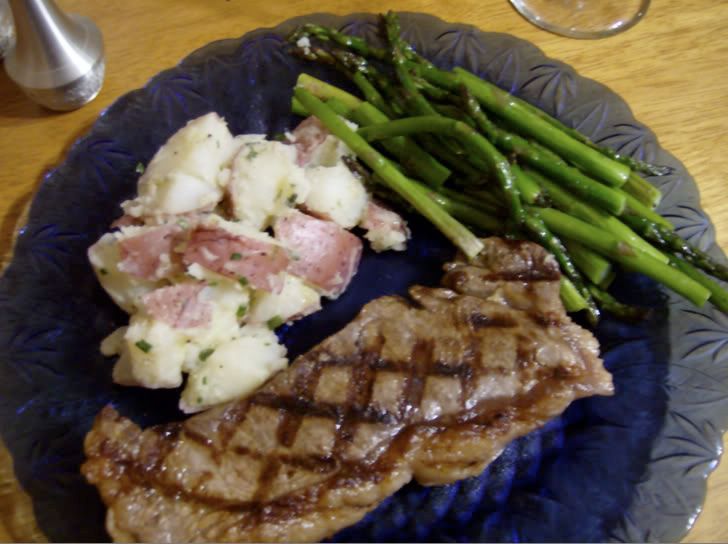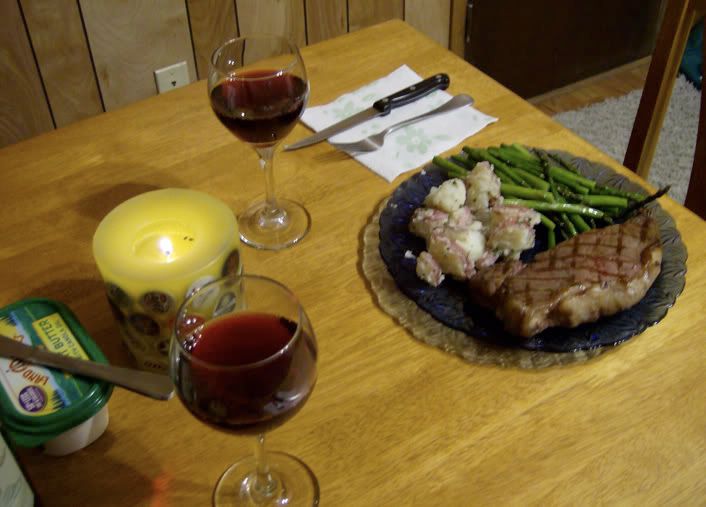 Served by beer-bottlecap-candlelight, because we're über-classy like that.
And the wine: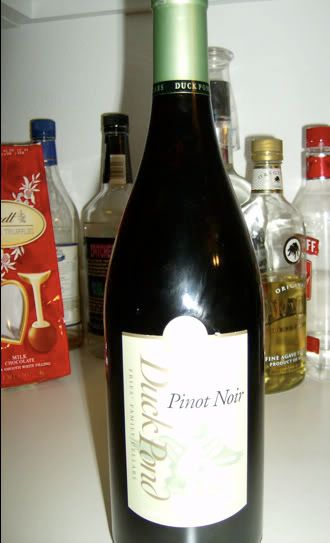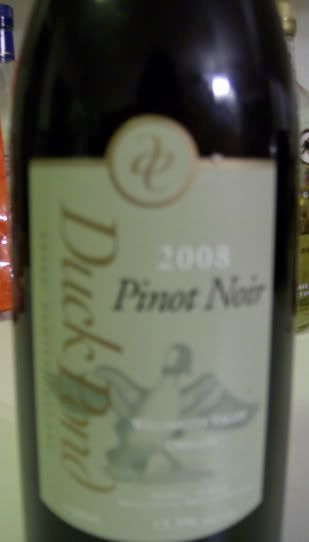 It was our first Pinot Noir and Doug wanted to try one from Oregon (he was born there and we're both big fans since we vacationed there a couple of years ago- the ultimate goal is to move to Portland down the road. But I digress).
We went with one by Duck Pond. Didn't have anything to compare it to, but we enjoyed it! Complemented our meal quite well.
Then, there was dessert. Sweet, delicious dessert from one of our favorite restaurants,
Marigold Cafe & Bakery
. We've gone there in the past for our V-Day dinner and even though we were cooking at home this year, we still wanted a Marigold dessert. Glad we did!
Doug got a chocolate raspberry mousse cake: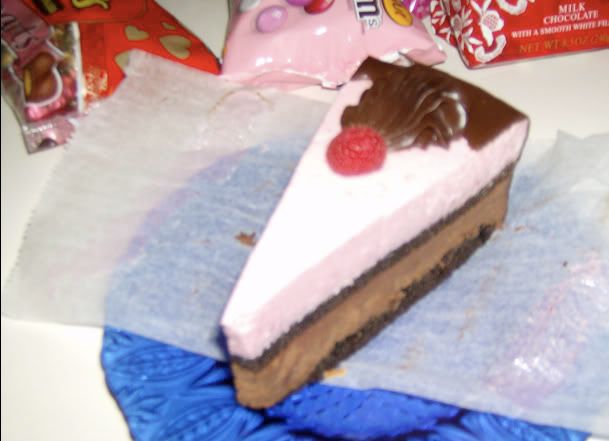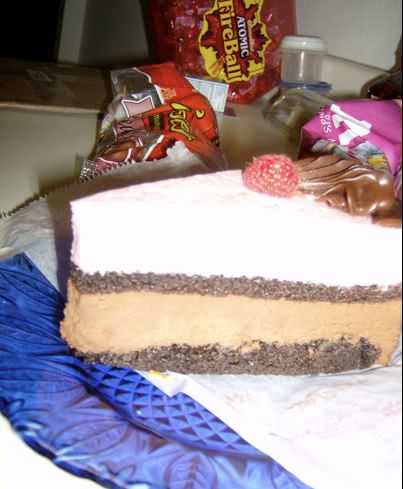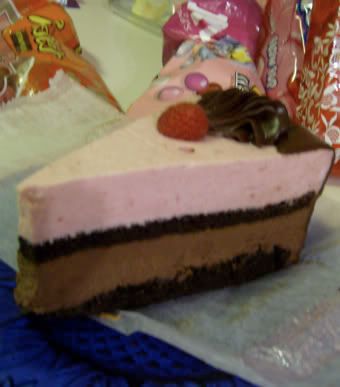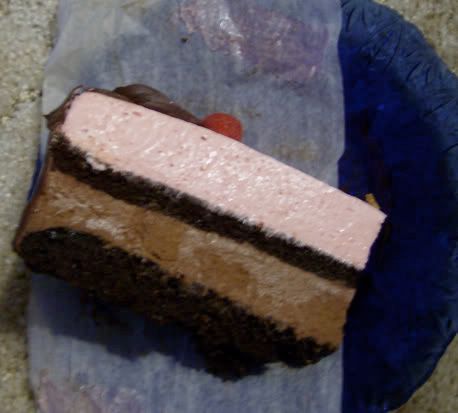 I opted for a lemon raspberry coconut cake: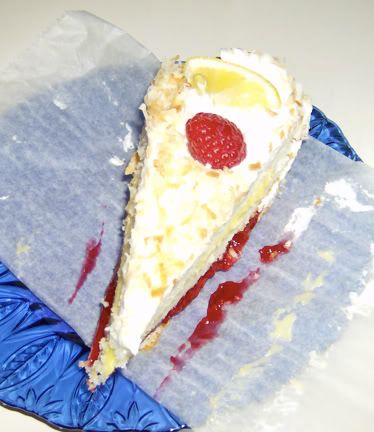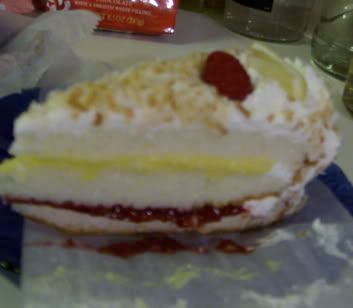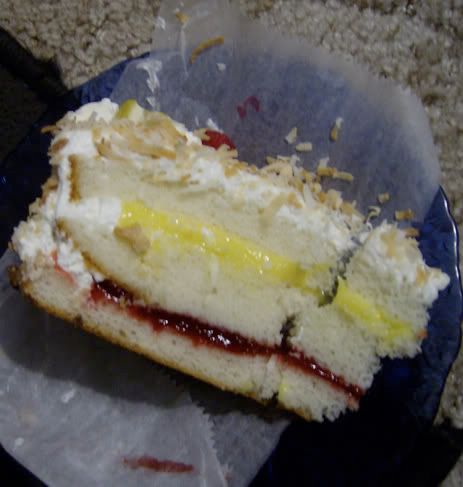 Both were amazing! That's all I can think of to describe them, haha.
Also, as you can probably tell from some of the background shots, multiple pieces of clichéd V-day chocolate candy were also consumed. Peanut M&M's, Reese's Peanut Butter Hearts and my personal favorite, the limited edition Lindt Truffles- Milk Chocolate
filled with White Chocolate
. Ugh. So good.
Definitely a night of true indulgence. I love being with a man who knows how to cook.