Ok, before I get to breakfast pics, I have some pretty exciting news to share (well, exciting to me, of course): This morning, I ran
5 miles in 48:56!!!
I'm so incredibly stoked right now. It didn't come without pain though; I definitely had my share of side cramps, but I ran through them. And, during my cooldown walk, I contemplated going for another mile, but instead forced myself to press the STOP button on the treadmill and headed to the locker room. Could I have done 6, maybe 7 miles? Sure. Would I regret it the next day? Yeah, probably.
Although, I am contemplating on going again on Sunday and either repeating my time, beating it and/or increasing my mileage. We'll see.
I'm not at work today, so I was able to sleep in and had some Amazing Grass Green Superfood with water and 1/2 a small banana before I headed to the gym. I usually don't eat before my workouts on the days I get up at 5 am, but since I had time to digest and was planning a long-ish run, I decided it would be wise to fuel up a bit beforehand. I think that helped in the end.
And y'know what else? These strength training workouts have been buffing up my legs
big
time. The first half of my run was pretty cake because my legs just felt so strong and capable, versus heavy and sloppy. And with all of the squats and lunges I've been doing, my knees are stronger and rarely sore. In fact, this was probably the first long run where my knees didn't bother me afterward. High-five for getting stronger!
I'm seriously contemplating getting some champagne tonight to celebrate this run, haha. I thought for sure it would take me 50+ minutes (I did take walking breaks every mile), so when I saw a 4 in front of my final time, I freaked myself out. I wanted to break out into some serious fist pumps.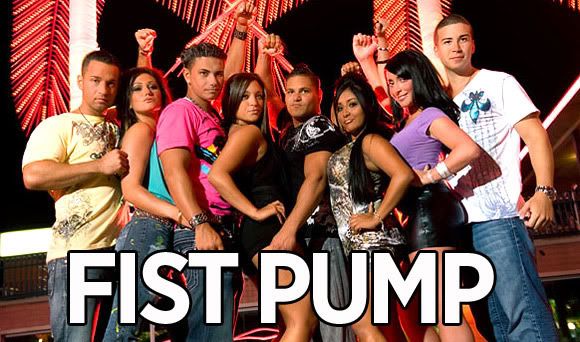 Yeah,
those
kind of fist pumps...
But alas, I simply went home, showered and rewarded myself with an awesome breakfast: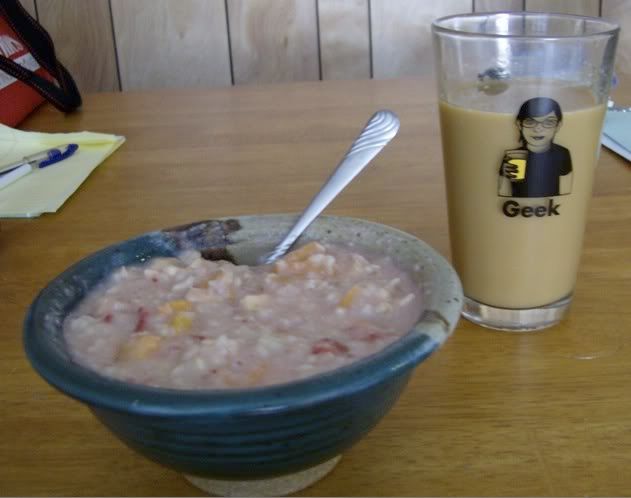 Big bowl of [soupy] fruity oats: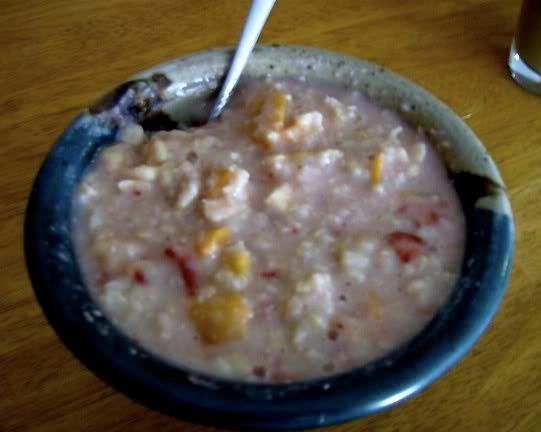 In this mix:
1/2 cup oats
1/2 small banana
about 1/2 cup frozen strawberries (thawed)
about 1/2 cup frozen peaches (thawed)
1 tbsp reduced-fat unsweetened coconut
1.5 scoops of Biggest Loser vanilla protein powder
splash of vanilla extract
splenda
Oh. My. God. Probably one of the best (if not THE best) bowl of fruity oats I've made. I totally wrecked that bowl.
And on the side, cold coffee with 1/2 cup unsweetened vanilla Almond Breeze:
Probably will skip lunch pics today. I'm not planning on having a traditional lunch anyway, seeing as I finished breakfast at 11 am. We have dinner reservations at
Rock Bottom Brewery
this evening, so I'll probably have a small snack before we head out. I've been dreaming of their smoked salmon fish 'n' chips for months now, so I'm gonna order those. But I'll probably ditch the chips for some steamed veggies. I really just want hunks of beer battered smoked salmon and not much else. Omg. Can't wait. I'll try to remember to take pics before I inhale them like a Shop-Vac. 'Cause, y'know, that's the plan.
Hope everyone is having an awesome Friday!