The past few days have flown by! Too much busy-ness for my liking. And of course the time change didn't help. Ah well. Just a quick dinner post tonight (with not-so-great shots because I was totally rushing). More goodness á la Doug (he's been spoiling me lately- I need to get off my ass and cook this week!):
Quick guacamole.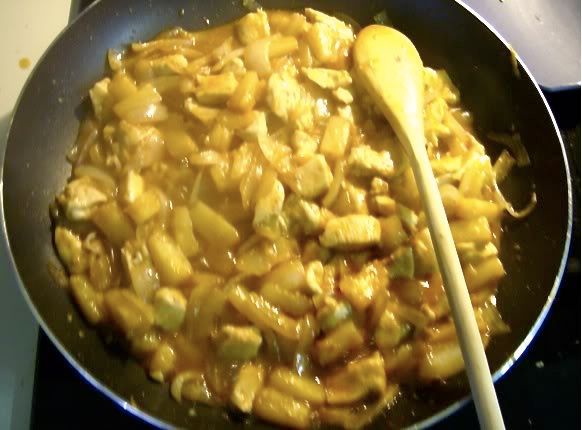 Taco filling. In the mix:
diced chicken
onions
pineapple tidbits (used some of the extra juice as well)
BBQ sauce
Teriyaki sauce
minced garlic
crushed red pepper
ginger
All cooked together with a little bit of oil. I helped a
little
bit and grilled the corn tortillas. The results: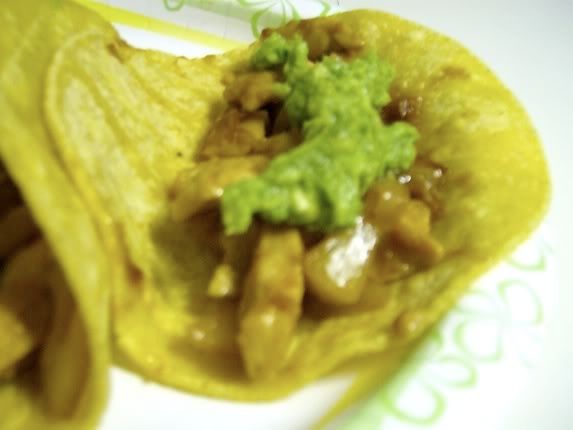 Fusion taco goodness. Sweet, spicy an savory. Loved it! Dished everything out into 4 servings, so I've got lunch ready to go for tomorrow!
Not pictured are the 2 teaspoons of
Cinnamon Vanilla Sunflower Butter
I sampled after dinner. I ordered this stuff on a great sale over a month ago and due to a backorder, it just arrived today. Luckily it's pretty good (and packed with all sorts of healthiness!), so I guess I won't hold too much of a grudge.
Didn't workout in the morning because I needed an extra day to adjust to the time change. I did however take an early afternoon off and headed to the gym for a mixed routine of running, incline training, step mill and the elliptical. I wish I could have every afternoon off- perfect time to workout!
I'm being such a wuss about this time change that I'm starting to contemplate working out later in the day again. But deep down I know I won't... Having my evenings free is just too worth the early morning insanity. But an occasional change of pace doesn't hurt either!
Tomorrow's shaping up to be busy too, so I probably won't get to pics until dinner again, if that. We'll see. Hope everyone survived Monday!