Long, busy day. My dad's procedure went well. Got to spend some time with him, did a massive grocery shopping trip, squeezed in an afternoon run outside, made dinner and now I'm relaxing on the couch, waiting for the snow to come. Oh, crazy Colorado weather. Kind of in a mixed mood tonight. In between all of the day's errands, I also found out my old babysitter passed away this afternoon. She was in her 80s, but was also recently diagnosed with pancreatic cancer. I'm glad my mom and I got to visit her in the hospital a few weeks ago. She was so happy to see me.
That said, I'm gonna kind of breeze through this post so I can zone out, sleep and return to work tomorrow. Oh, Friday. I'm so glad you're almost here.
Breakfast: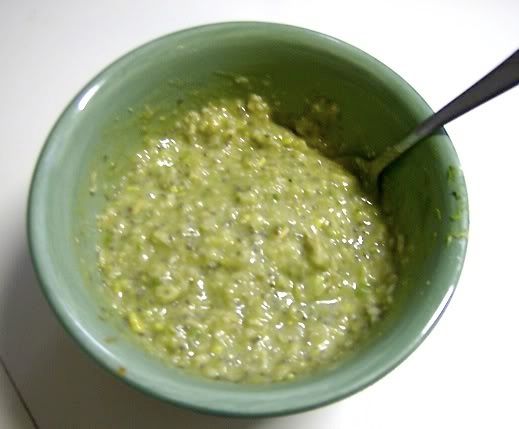 Avocado
oats! Without even looking, I'm sure this has been done before, but I was still excited that the idea entered my head last night as I was going to bed and trying to figure out how to finish off the avocado I had cut into.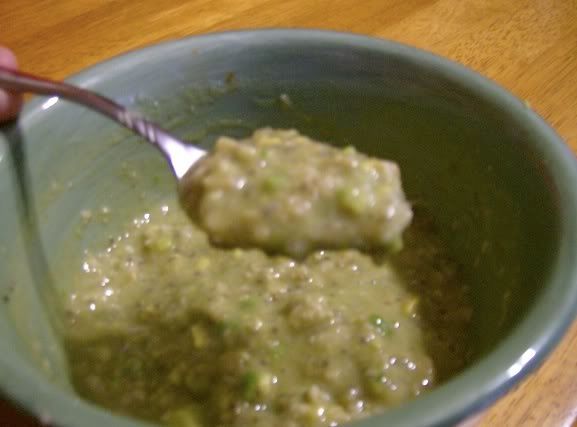 See the chunks? And remember how I said avocado tastes like butta? Well, hello buttery oats. Mmm!
In the mix:
1/2 cup oats
about 1.5 oz avocado, mashed
2 tsp. chia seeds
vanilla extract
cinnamon
splenda
Morning snack: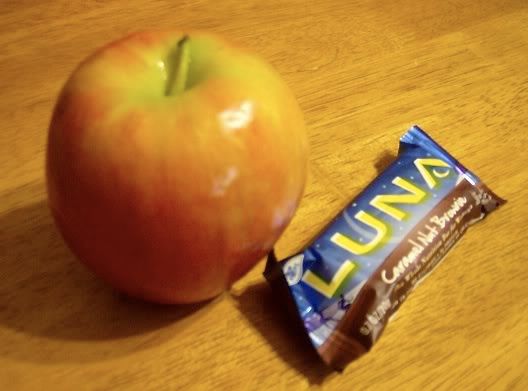 Jazz apple and a mini Luna bar. Took these with me to the waiting room at the hospital. Glad I did- the wait was long and I got super-hungry!
No pics for lunch- I had just enough time to swing by Subway and head back to the hospital. I had a 6" Subway Club on wheat with American cheese, tons of veggies and mustard. The sandwich held me over through the looong grocery trip and my afternoon run.
Afternoon snack: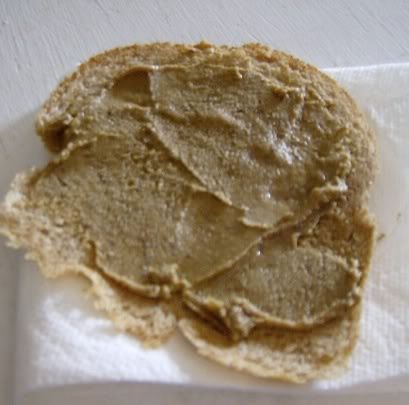 A small slice of toasted Honey Whole Wheat and a couple teaspoons of cinnamon-vanilla sunflower butter. I only ran outside for 30 minutes, but it kicked my ass so this snack definitely made for good recovery fuel.
Dinner: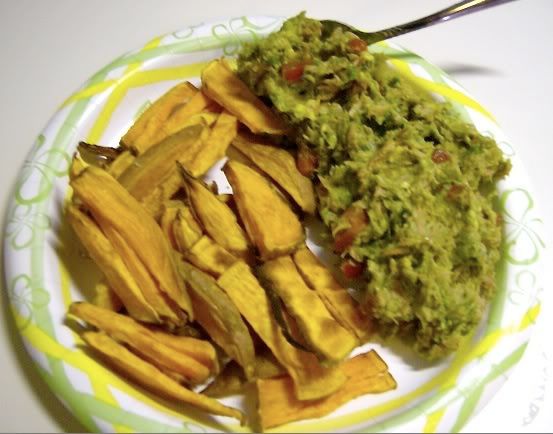 Sweet potato fries (tossed in olive oil, kosher salt and baked) and tuna mixed with more mashed avocado and salsa. Quick, simple and filling!
That's all for tonight. I'm beat!