I swear, some days I should just hand this blog over to Doug; he's cooked dinner the past 3 nights in a row! And they've all been great. Love, love, love his food (and he's not too shabby either).
I'll start with a couple shots of his plate, because it was prettier than mine: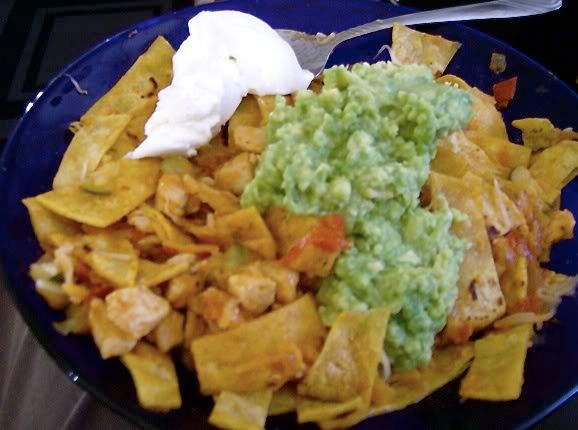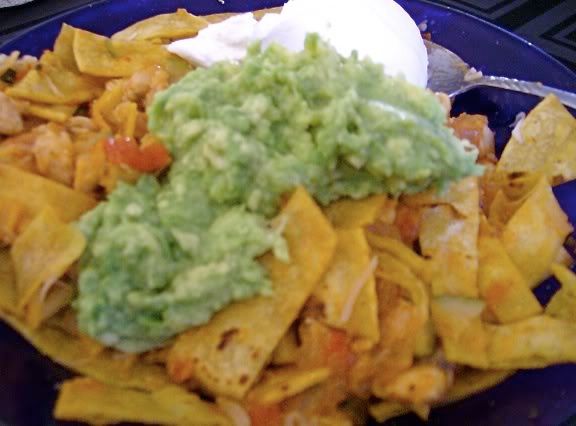 "Pretty... But what is it?"
Well, he diced up a chicken breast and cooked it with some onions, tomatoes, zucchini, cumin, garlic powder, cayenne, oregano, Famous Dave's Sweet & Zesty BBQ sauce, pineapple tidbits, a little bit of olive oil and "some love" (his words).
While that was all cooking down, I mashed up a small avocado and took out some corn tortillas. The original plan was to make tacos, but I was getting impatient (so hungry today!), so I decided to just tear the tortillas into bits and mix everything together in a bowl.
My not-so-pretty version, sans sour cream and shredded cheese: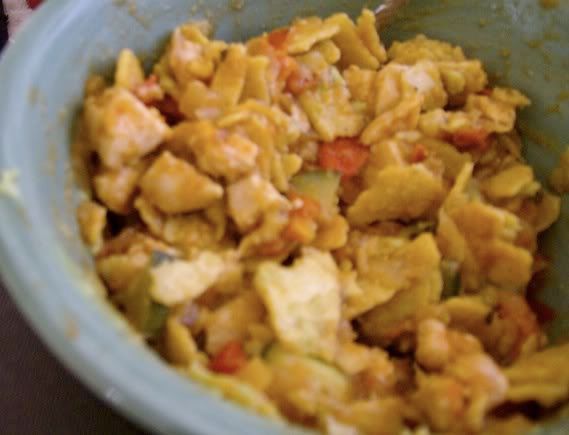 It was daaaamn good though! And he added just the right amount of cayenne, so there was a great spicy kick to complement the sweet pineapple.
I'll cook again eventually, haha.
Tomorrow, I'm gonna try a TurboKick class after work. So excited! I've always loved kickboxing since I tried Tae-Bo all those years ago, but haven't had a chance to explore it outside of those particular DVDs (which have gotten progressively worse over the years, in my opinion). The description on the website said the class is designed for medium to advanced fitness levels, so it sounds like it'll be nice and challenging! I can't wait. It'll be refreshing to do a workout without any equipment that's not running. I'm all about variety these days!
I'm also debating on trying their 24Cycle class on Thursday because I'm finally ready to try spinning, but we'll see. I need to work in a rest or light activity day between now and the 24 S.E.T. class on Saturday. So many classes!
Lastly, I'm beyond stoked that tomorrow is pay day. Lots of different foods we've been out of for a while; I need more Greek yogurt to mix with my
baby food
!
Back to Biggest Loser. Have a good night!