Awesome dinner tonight!
Oven-roasted brussel sprouts (tossed in olive oil/salt/pepper) mixed with sautéed mushrooms, onions and
bacon
. Pork chop on the side. Yes, on the
side
; the brussel sprouts were the headliner for me. First time trying them roasted- I don't think I'll ever go back! Soooo delicious and super-filling.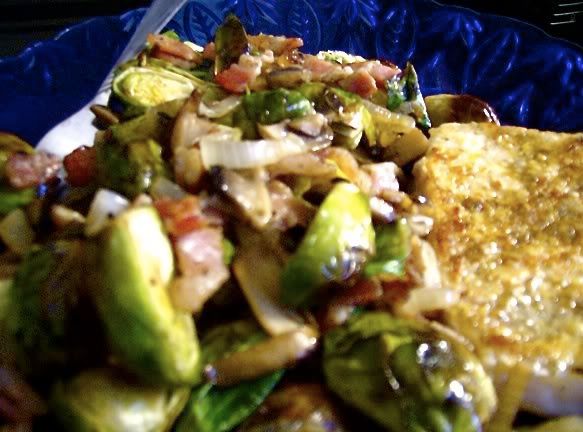 Doug handled the pork chops and coated them in a little bit of flour and a mix of spices (garlic powder, sage, cayenne, salt, pepper) before pan-cooking them in a little bit of olive oil. They turned out perfect and didn't need any extra sauce or anything.
Excellent, excellent meal. Doug had leftover mashed potatoes with his half, but I was perfectly content with just the meat and veggies. We ate up all of the sprout mix, but we had four servings of pork chops, so I get to play with the leftovers for lunch tomorrow. Can't wait!
Back to my fellow pork lover,
Bourdain
. He keeps reminding me that I need to try Pho and a good Vietnamese sandwich!
Hope everyone survived Monday.