This week has ended on so many good notes, I'm just so happy to be alive. Probably sounds over-the-top, but it's true. Had a great morning workout, ate delicious food all day and even heard back from Dr. May about
my book review
that I posted this morning! I was really touched by her response. I'm just so grateful for her book and how it helped me, so sharing my feedback just seemed like the right thing to do.
After all of those warm fuzzies, life only got better at dinner time: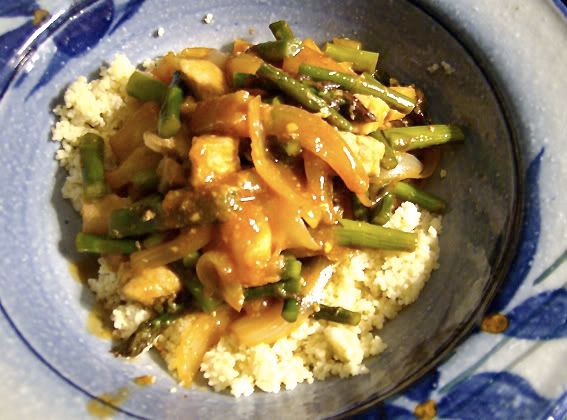 One of our favorite, easy go-to meals is grilled pork with some kind of veggie (usually zucchini or asparagus), onions and a sauce of some sort, served over couscous.
Well, tonight Doug took things up a notch. In tonight's mix:
diced boneless pork chops
asparagus
onions
garlic
ginger
Teriyaki sauce
Pineapple tidbits
crushed red pepper
He basically cooks up all of the above in a pan and pours it over the couscous. Tonight was the first time we tried this particular combination and I think what really pushed this meal into Foodgasm Land was the use of the BBQ sauce with the pineapple. Plus, if there's one combination I LOVE, it's sweet and spicy.
You could use chicken or tofu, but there's just something about the flavor and texture of the pork that helps me find that happy place.
Not pictured are the beer and iced tea cocktail I had before dinner. Between those, the Pork-Veggie-Couscous Awesomeness and a new episode of Best Thing I Ever Ate on Food Network, this evening is officially a win.
Tomorrow, I plan on hitting the gym in the morning, trying out some oat bran for breakfast and seeing Chelsea Handler in Denver. Oh, and eating leftover Pork-Veggie-Couscous Awesomeness, duh.
Happy Weekend!