Today's weight: 157. A loss of 1.6 pounds! But more importantly...
I HIT THE 90 POUND MARK!
(and then some!)
The scale pic: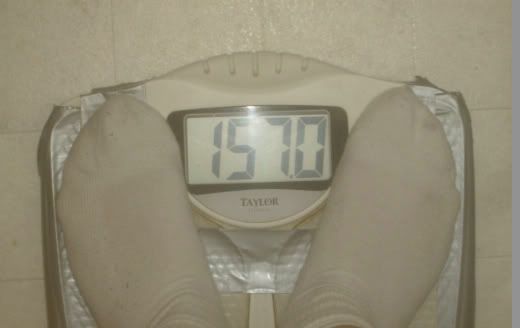 Started the journey May 2007. It's been a damn long haul, but worth it, obviously.
So what now?
Well, I must confess, I'm not going to start maintenance quite yet. Between surpassing my goal by a pound and my recent plans to implement a new fitness routine and fine-tune my diet, I'd like to see if I can lose any more. Call me crazy, but I'm somewhat confident that by pushing my body a little harder and eating even cleaner, I could maybe knock out another pound... or five. I'll see how things go over the next month and work forward from there.
What's your reward?
Unfortunately, my budget won't really allow for the type of big reward I was hoping to give myself (new clothes shopping spree, a trip, a jumbo gourmet cupcake, etc.). It leaves me a little bummed, but if I may be so old and wise and cheesy and shit, I've already been rewarded in so many ways. I've added years to my life, significantly reduced my risk of diabetes (take THAT family history!), I've become a runner, I've bought normal-sized clothes off of a clearance rack, I've built a whole new loving, respectable relationship with food and I just feel plain great. These are all things I never would have imagined accomplishing at 248 pounds.
Oh, and I suppose my super-short haircut was also a reward too, even though it was done pre-goal, heh.
ANYWHO, on to the before/after pics:
BEFORE, 248 pounds: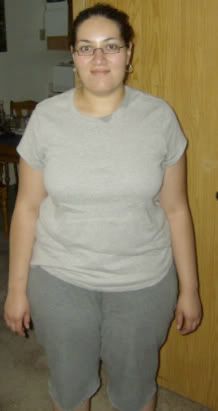 AFTER, 157 pounds: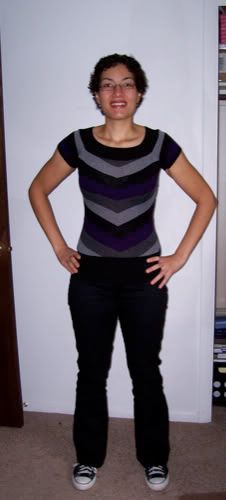 I don't want to ramble, so I will just say thank you to EVERYONE who supported me through this. Your kind encouragement was greatly appreciated and I could not have done it without you.
And, although it's a cliché, if I can do this, you better believe that you can too. Make a promise to yourself. Be disciplined. Be selfish. Respect yourself and your goal. Seek out support from others, but always remember that only
you
can make the necessary diet and exercise changes to become a healthy individual.
Everybody has the ability to do this, it's just a matter of changing your attitude, taking responsibility for your actions and throwing any and all excuses out the window. Everyone deserves to be healthy, plain and simple. And it's NEVER too late to start, even if it's for the 100th time.